Quality Professionals Roundtable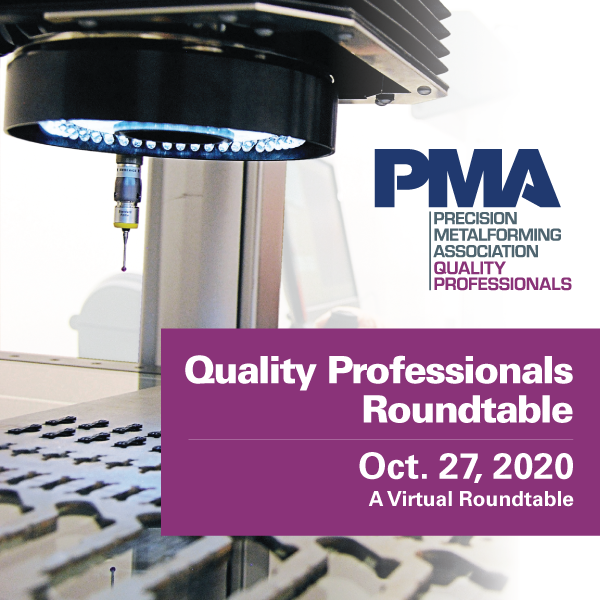 Tuesday, October 27, 2020
VIRTUAL ROUNDTABLE
Mark your calendar and join us for PMA's Quality Professionals Roundtable. Attendees will have the opportunity to exchange views, share experiences, discuss new quality system requirements and methodologies with peers, establish relationships and receive information on new quality standards and technology.
Topics to be covered:
Cost of quality–good and poor
Materials
Managing and controlling quality
New measurement tools
Quality improvement
Quality standards
Emerging technologies
AGENDA
Tuesday, October 27, 2020
10:00 a.m. Welcome and review of antitrust guidelines
10:05 a.m. Personal introductions and identify "pain" points (hot topics for discussion)
10:45 a.m. A Simplified Approach to a Process Based Quality System
Mark Netzel, VP, Quality, Die-Matic Corporation
(Q&A to follow)
11:45 a.m. Lunch Break
12:15 p.m. The Impacts of Robots on Increasing Quality
Sue Helper, Professor of Economics, Case Western Reserve University
(Q&A to follow)
1:15 p.m. Break
1:25 p.m. Roundtable discussion
4:00 p.m. Adjourn
SPEAKERS
Susan Helper, Professor of Economics, Case Western Reserve University
Susan Helper is the Frank Tracy Carlton Professor of Economics at the Weatherhead School of Management at Case Western Reserve University. She was formerly Chief Economist at the U.S. Department of Commerce and a member of the White House Staff. She has served as chair of the Economics Department, and has been a visiting scholar at University of Oxford, the University of California (Berkeley), Harvard University and the Massachusetts Institute of Technology (MIT). Her research focuses on the globalization of supply chains, and on how U.S. manufacturing might be revitalized. Dr. Helper received her PhD in Economics from Harvard and her BA from Oberlin College in Economics, Government and Spanish.
Mark Netzel, Vice President of Quality, Die-Matic Corporation
Mark Netzel, vice president of quality at Die-Matic Corp., has more than 30 years of manufacturing quality assurance/control experience, working as a press operator, quality inspector, quality engineer, quality manager, director and vice president. He has been involved with quality systems development, root cause/corrective action development and all aspects of manufacturing quality from company objectives, strategic planning and employee training, among others.
Mark has served as the education chair for the Cleveland Section American Society for Quality (ASQ) since 2000 and has worked as a course instructor in many areas. He spoke at the ISO World Conference in 2018 as well as at FABTECH 2019. Mark holds eight quality certificates through ASQ, and has an associate's degree in Business Management and is currently completing another in Purchasing Management/Supply Chain.
FACILITATOR
Pete Ulintz, Technical Director, Precision Metalforming Association
Peter has worked in the metal stamping and tool and die industries since 1978. He worked for Anchor Manufacturing Group in Cleveland, OH, for 28 years prior to joining PMA in 2015 as technical director. His background includes tool and die making, tool engineering, process engineering, engineering management and product development. Peter speaks regularly at PMA technical seminars and conferences. He also is president of the North American Deep Drawing Research Group, and is a columnist for Tooling by Design in MetalForming magazine.
REGISTRATION INFORMATION
$99 PMA member
$299 Nonmembers
Questions? Contact Katlyn Stratis at 216-901-8800 ext. 149.