Cleveland District - Political Night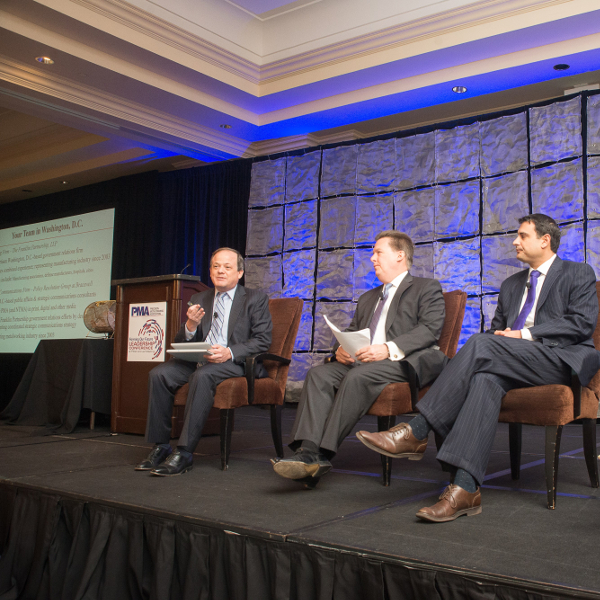 Tuesday, January 9, 2018
Cleveland, OH
Event Details
Nearly one year after the swearing in of the 45th President, Washington is a very different place. This is your chance to hear directly from PMA's lobbyist in Washington, D.C. to help shed some light on the latest developments from our nation's capital. Omar S. Nashashibi, founding partner of The Franklin Partnership, will provide PMA Cleveland District members with an update on taxes, steel and aluminum tariffs, the inside take on NAFTA negotiations, and information on EPA and OSHA regulations. Come and get past all the media spin and learn about how Washington is really affecting your business.

Date
Tuesday, January 9, 2018
Agenda

6:00 -9:00 p.m.
Registration and Networking (cash bar available)
Dinner
Presentation by Franklin Partnership Founding Partner Omar S. Nashashibi
Location
100th Bomb Group Restaurant
20920 Brookpark Rd.
Cleveland, OH 44135
216-267-1010

Registration Information
$45 - PMA Member
$55 - Nonmember

About The Speaker

Omar S. Nashashibi is a founding partner with The Franklin Partnership, a bipartisan lobbying firm based in Washington, D.C. PMA retained Omar's firm to be the voice of the industry in Washington in 2002. Omar has 20 years of experience working with policymakers, politicians and the media. He lobbies the White House, members of Congress and government agencies who issue thousands of new laws and regulations each year. Before founding his own firm in 2005, Omar worked for the Office of Management and Budget, part of the White House and a large multi-state law firm. Omar graduated from the George Washington University in Washington, D.C., where he studied Political Science and International Affairs.