Member Profile
The DAK Group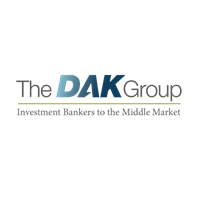 195 State Rt 17 S
Rochelle Park, NJ 07662-4007
United States
Map Location
Phone: (201) 712-9587
Fax: (201) 712-9557
Website:
www.dakgroup.com
Facility Size: 0 sq.ft.
Employees: 1-49
BRONZE MEMBER
PMA Member Since: 2021


The DAK Group focuses exclusively on maximizing value for middle-market business owners. As a leading full-service investment bank we help entrepreneurs, family business owners and their stakeholders navigate financial options for growth and expansion, as well as pursue successful exit strategies. We support M&A needs in the areas of:
Full or Partial Sale of their Business
Mergers & Acquisitions
Recapitalization
Valuation & Fairness Opinions

The DAK Group was founded in 1984, and has successfully completed over 650 transactions worldwide across the full range of major industries including: Metalforming, Diversified Industrials, Automation, Precision Manufacturing, Industrial Service and Tool & Die. The DAK Team has deep expertise in building trust of family founders (both domestic and international), their extended family shareholders and their respective management teams to position the company in a very competitive M&A market. The DAK team includes senior level investment bankers who understand the intricacies of working with business owners making, what could be, the largest financial decision of their lives. Our proprietary process ensures that each transaction meets the goal of maximizing the value of a lifetime's work.
Contact Len Laporta
Phone: 203-451-7799
Email: llaporta@dakgroup.com

Markets Served
Aerospace
Agricultural Equipment
Appliance
Automotive After Market
Automotive Tier 1
Automotive Tier 2
Communication Hardware
Computer
Defense
Electronics
Furniture
Commercial/ Industrial Hardware
Commercial HVAC
Industrial
Lawn & Garden
Marine
Medical
Off Highway
Telecommunications
Transportation
---