Designing, Building and Optimizing Progressive Dies Seminar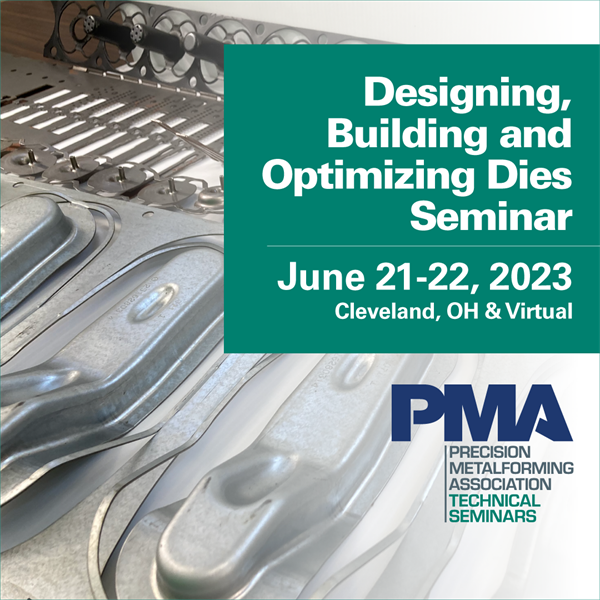 Wednesday, June 21, 2023 - Thursday, June 22, 2023
Cleveland, OH & Virtual
This is a two-day engineering and design-focused event for tool and die makers, die designers, tooling engineers and apprentices. The seminar will be hybrid with an in-person or virtual registration option. Choose the one that works best for you.
Day 1: Attendees learn the importance of material properties and press-line capacity, and their impacts on die design. An evaluation and ranking method for strip design is proposed, and its effectiveness demonstrated. The advantages and disadvantages of common part-carrier designs also are reviewed.
Die-guiding methods are assessed to meet alignment needs. Strip alignment, feeding and positioning methods also are reviewed. The day concludes with an analysis of internal die thrusts and how to compensate for them in the design.
Day 2: Cutting and punching technology establish best practices for design and cutting clearances. Bending theory and springback-compensation techniques provide attendees with tools to properly design forming, flanging, curling and hole-extruding stations. Deep drawing principles help designers and engineers manage critical parameters for forming cylindrical and box-shaped parts in progressive dies. The seminar concludes with pressure-pad design parameters and selection of a pressure system.
AGENDA

Wednesday, June 21, 2023
8:00 a.m. Breakfast
8:30 a.m. Welcome/Introductions
8:35 a.m. Presentations
• Sheet Metal Properties - Impact on Die Design
• Understanding Press Specifications and Capacity
• Straightening & Feeding Capability – Impact on Die Design
12:00 p.m. Lunch
12:45 p.m. Presentations
• Progressive Die Strip Evaluation – A Proposed Ranking System
• Carrier Design Considerations
• Die Guiding, Strip Feeding and Positioning
4:30 p.m. Adjourn
Thursday, June 22, 2023
8:00 a.m. Breakfast
8:30 a.m. Presentations
• Cutting and Punching Technology
• Bending, Flanging and Forming Considerations
12:00 p.m. Lunch
12:45 p.m. Presentations
• Deep Drawing Technology
• Pressure Pads and Pressure Systems
2:30 p.m. Adjourn
INSTRUCTOR
Peter Ulintz, Technical Director, Precision Metalforming Association
Peter Ulintz worked in the metal stamping and tool and die industries for 37 years prior to joining PMA in 2015 as technical director. His background includes tool and die making, die processing and design, engineering management, and product development. Peter speaks regularly at PMA technical seminars and conferences. He is past president of the North American Deep Drawing Research Group, and authors the Tooling by Design column in MetalForming magazine.
SEMINAR LOCATION
Precision Metalforming Association
6363 Oak Tree Blvd
Independence, OH 44131
216-901-8800
HOTEL ACCOMMODATIONS
Holiday Inn Cleveland South
6001 Rockside Rd.
Independence, OH 44131
216-524-8050
To make hotel reservations, reserve online or call 216-524-8050 ext. 298 and reference Precision Metalforming Association corporate to receive the rate of $109 per night plus applicable taxes. Hotel accommodations include free self-parking. The hotel does not provide shuttle transportation.
REGISTRATION
IN-PERSON/VIRTUAL
$499 Members
$699 Nonmembers
Note: In-person registration includes breakfast and lunch.
Review PMA's COVID-19 safety information.
To register by phone, please call Marianne Sichi at 216-901-8800 ext. 150.
Sponsored by

NOTICE:
In order to avoid a known bug found with the Chrome browser, please use the latest version of Microsoft Edge or FireFox when registering.
If you are not attending, but need to register others.