Transfer Automation Seminar and Tour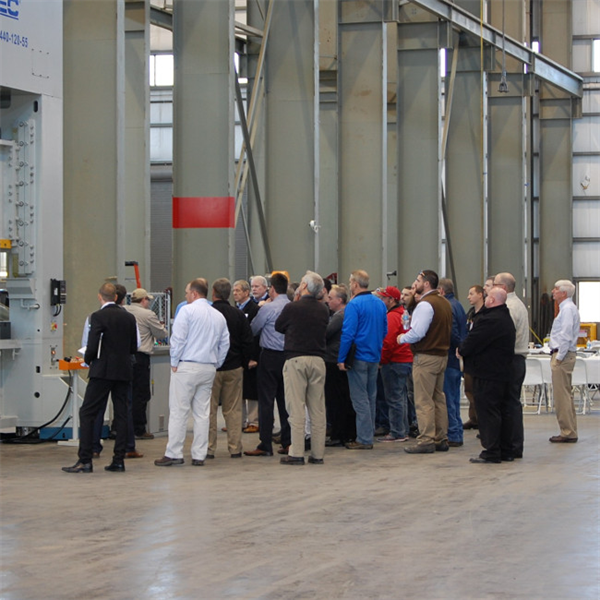 Wednesday, August 15, 2018 - Thursday, August 16, 2018
Toronto, Canada
EVENT DETAILS
This two-day multi-speaker program and tour will highlight transfer-process capabilities and tooling technology, and how transfer systems are being used to increase production efficiently on new or existing presses.
The group will tour Clover Tool Manufacturing's 175,000 square foot facility. This facility provides full service solutions from prototyping, tooling, R&D work, stamping, assembling and welding to finished product. Clover Tool Mfg. processes on average more than 100 tons of steel per day, producing 1.50 million parts per week. They also have won numerous awards throughout the years. Clover Tool has been the recipient of many awards for delivery, quality and manufacturing excellence, and were selected twice as a Regional Finalist in Canada's 50 Best Managed Companies Program.
Sponsored by:
Learn from the experts! Seminar highlights:
Transfer-press considerations, process capabilities and transfer technology
Advantages and limitations
Die design considerations
How transfer technology allows opportunity for added value in your stamping operations
Transfer-press evaluation and design features
Features and design criteria of a good transfer tool
Advantages and cost savings of transfer tooling
New advances in servo-drive technology
A review of high-speed transfer applications for the smaller market segment
Transfer-process capabilities as compared to those of progressive dies
How to evaluate a part and determine whether or not to use transfers
Tandem transfer-press lines
Press-to-press transfer and hot forming technology
Guidelines for evaluating and selecting a press
Transfer-finger-tooling design
Simulation
End-of-arm tooling and sensors
Sensors for transfer applications
Presenters
Randy Couture, Regional Sales Manager, AP&T North America, Inc.
Mike Hebert, Sales Manager, Eagle Press
Paul Stirrett, VP Sales and Marketing, Linear Transfer Automation
Bob Gunst, President, Jaycar Systems LLC
Corey Chamberlain, Co-Owner, T-Sim Solutions
Will Healy III, Strategic Marketing Manager, Balluff Inc.
Ron Slone, Director, Norgren Automation Solutions/Syron
Brad Rine, VP Sales & Business Dev., Die Cad Group
AGENDA
August 15, 2018
8:00 a.m. Check-in and breakfast
8:30 a.m. Introduction – Transfer-Die Processing
9:00 a.m. Transfer-System Technologies
10:15 a.m. Compact In-Die Mounted Transfers
11:30 a.m. Press Considerations
12:30 p.m. Lunch
1:30 p.m. Die Design
2:45 p.m. Simulation Technology
3:45 p.m. Q&A and discussion
4:00 – 6:00 p.m. Reception/exhibits open
August 16, 2018
7:30 a.m. Breakfast
8:00 a.m. Automation Tooling and Sensors
9:15 a.m. Depart for tour
10:00 p.m. Tour of Clover Tool Manufacturing
11:30 a.m. Return to hotel
12:15 p.m. Lunch
1:15 p.m. Sensors for Transfer Applications
2:30 p.m. Press-to-Press Transfer and Hot-Forming Technology
4:00 p.m. Adjourn
Note: breakfast, lunch, reception and transportation to and from the tour are provided.
SEMINAR LOCATION AND HOTEL ACCOMMODATIONS
Holiday Inn Toronto/Yorkdale
3450 Dufferin St.
Toronto, ON Canada M6A 2V1
866-568-0046
Reserve your room online or call the hotel reservation line at 866-568-0046 to make a room reservation. Reference Precision Metalforming Association to receive the group rate of 169.95 CAD 2 double beds and 174.95 CAD 1 king bed (approx. 135-140 USD.) The PMA group rate is available through July 23, 2018. Reservations made after this date are subject to availability at the hotels prevailing rates. Wi-Fi access is complimentary in guest rooms and meeting space. Parking is available at 18 CAD per day/night.
REGISTRATION INFORMATION
499 USD PMA Member
599 USD Nonmember
For more information or to register over the phone, please contact Marianne Sichi at 216-901-8800.
Please let us know if you require any special arrangements or accommodations: PMA reserves the right to amend the program should circumstances warrant such action. In the event of course cancellation, PMA will notify you within seven days of the program date, and will refund registration fees. Liability for course cancellation is specifically limited to the amount of registration fees and excludes any incidental or consequential damages. Individual program cancellations must be made in writing. Registration fees are nonrefundable for cancellations received less than seven days prior to the program. Substitutions are welcome at any time.