Deep Draw Technology Virtual Seminar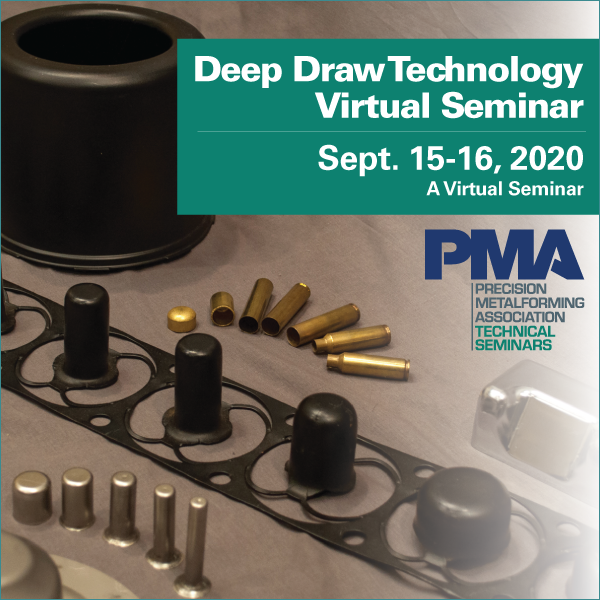 Tuesday, September 15, 2020 - Wednesday, September 16, 2020
Virtual Seminar | 12:00 - 3:30 p.m. ET
Get the Tools You Need to Improve Performance
PMA's technical seminar has gone virtual. Pack your lunch and join our three experts as they deliver enlightening presentations!
Overview
Discover how sheet metal strength and thickness, forming speeds, surface coatings, lubricant types, die design, tool steel selection and heat treatment affect part formability, process performance and die life in deep-drawing applications.
Webinar topics include:
Tooling design principles for deep drawing and redrawing cylindrical parts
Guidelines for drawing and redrawing box shells
Development steps for drawing irregular-shaped parts
Selecting a suitable tool steel based on performance requirements or failure modes
Troubleshooting and diagnosing deep-drawing problems
The science behind friction at the tool surface
Understanding basic lubricant formulation
Tool steel selection
Heat treatment and coatings
Who should attend?
This webinar is designed for those designing, building and operating single-station, progressive and transfer drawing dies operating in hydraulic, mechanical and servo-mechanical presses.
Die Designers
Die Maintenance Personnel
Manufacturing Engineers
Plant and Operations Managers
Process Engineers
Product Designers
Program Managers
Quality Personnel
Tool & Die Makers
Tooling Engineers
Tooling Supervisors
Presenters
Pete Ulintz, Technical Director, Precision Metalforming Association
Jeff Jeffery, CEO, IRMCO
Ed Tarney, Principal Metallurgist, ET Metallurgical LLC
AGENDA
September 15, 2020
12:00 p.m. ET Drawing and Redrawing Cylindrical Cups, Peter Ulintz
1:10 p.m. ET Drawing and Redrawing Box Shells, Peter Ulintz
2:20 p.m. ET Drawing Irregular Shapes, Peter Ulintz
3:20 p.m. ET Q&A
3:30 p.m. ET End webinar
September 16, 2020
12:00 p.m. ET Tool Steel Selection, Heat Treatment and Coatings, Ed Tarney
1:40 p.m. ET Lubricants: Redefined-Problems and Solutions, Jeff Jeffery
2:50 p.m. ET Draw Simulation Case Studies, Peter Ulintz
3:20 p.m. ET Q&A
3:30 p.m. ET End webinar
REGISTRATION INFORMATION
$199 PMA Member
$299 Nonmember
NOTE: Attendees will receive an email from "Webinar Admin" with the login information. Use the login for both days.
Registrants will receive a link to the presentation recording after the webinar.
To register over the phone, please contact Marianne Sichi at 216-901-8800 ext. 150.