Tennessee District: 3rd Annual Mfg/Suppliers Night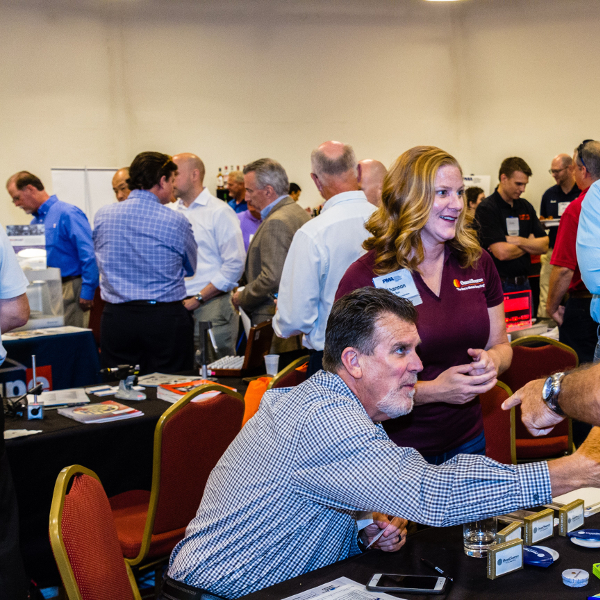 Thursday, September 13, 2018
Nashville, TN
EVENT DETAILS
The PMA Tennessee District is proud to host the 3rd Annual Mfg/Suppliers Night. This very successful and much anticipated event is designed to bring together industry suppliers and manufacturers to assist in business growth and the expansion of markets they serve. Use this opportunity to showcase what new technology your company has to offer the metalworking community!
The audience for this event includes:
Shop foremen
Manufacturing, industrial and quality engineers
Inspection personnel
Plant managers
Purchasing
Sales
Business owners and managers
Back again this year!
A dedicated area for students and companies to interact with exhibitors from high schools and colleges to learn more information about their courses and programs to educate the next generation of manufacturers.
Thank you to our sponsors!
Raffle Sponsors: American Global Standards / Anchor Danly / Chemcoaters / Dallas
Industries /Diehl Steel-Hitachi / Green Packagin / Pacific Press Technologies / Precision Steel
Warehouse
Food Sponsors: Alma Machinery / Komatsu America Industry
Bar Sponsors: Anchor Danly / Dallas Industries/ Komatsu America Industry/ Lapham
Hickey Steel / Loftis Steel & Aluminum / TruForm Mfg. / Waelzholz North America
EXHIBITORS
Ace Machine & Metal
Advanced Feedlines LLC
Alma Machinery
American Global Standards
Anchor Danly
Antioch HS
AutoForm
Chemcoaters
Coe Press Equipment / Production
Resources
Columbia Machine
Dallas Industries
Die Cad Group
Diehl Steel - Hitachi
Eagle Press / Production Resources
Engineered Lubricants
Enterprise Stampings Inc.
Fagor
FluidForming Americas
Fortech Products
Green Packaging
Henderson Stamping
HMS Products
Hutchison Tool
Hyson Metal Forming Solutions
IC-Fluid Power Inc.
Industrial Innovations
Integrity Fab and Machine
IRMCO
John Bouchard & Sons
John Overton HS.
Keco Coating
Kent Corporation
Kloeckner Metals
Komatsu America Industry
Lapham Hickey Steel
Lee Steel - Union Partners
Linear Transfer & Automation / Production
Resources
Link Systems
Loftis Steel & Aluminum
Meco
Metal Working Supply
Metalloid Corporation
Mid-Park
Minister
Moeller Precision Tool
MTSU
NASG
NKS
Omni Source
Oriimec
Orttech
Pacific Press Technologies
Paulo
PAX Products / Production Resources
Pearl Equipment
Pepperl-Fuchs
Precision Steel Warehouse
Prime Controls Inc.
Pronic Inc.
Quality Metal Stamping
Ramco Specialties
Ready Technology
Resource Mfg.
Rock Valley Oil and Chemical Company
Sangiacomo Presses
Sankyo
Serapid
Seyi
Simpac
Skyline Mfg.
Special Springs
Stamtec
TCAT
Tennessee Tech University
The Davis Groupe
Toledo Integrated Systems
Toledo Press Industries
Tower Metalworking Fluids
Trillion Quality Systems
TruForm Mfg.
Unist Inc.
Vibro Dynamics LLC
Waelzholz North America
Whitworth Tool
Wilson Tool Impax
Wintriss Controls / Production Resources
Zapp Tooling Alloys
AGENDA
12:00 – 4:00 p.m. Exhibitor setup
4:00 p.m. Exhibits and cash bar open
4:30 p.m. Food stations open
8:30 p.m. Exhibits close
LOCATION AND HOTEL ACCOMMODATIONS
Nashville Airport Marriott
600 Marriott Drive
Nashville, TN 37214
615-889-9300
The room block rate is $169 per night plus tax. Last day to receive room block rate is August 17.
SPONSORSHIP OPPORTUNITIES
All company sponsorships will be recognized as a prize sponsor.
$150—Raffle Prizes (prizes given away throughout the event)
$250—Food (8 available)
$250—Bar (8 available; you will receive 4 drink tickets per bar sponsorship)
REGISTRATION INFORMATION
Attendees
Free registration. Print off and bring ticket to attend.
Exhibitors
$295 per table—PMA member
$325 per table—Nonmember
Complimentary hors d'oeuvres will be served and drink tickets will be sold.
For more information or to register, please contact Perry Hytken at 615-500-1792.