APSC Spring Forecast Webinar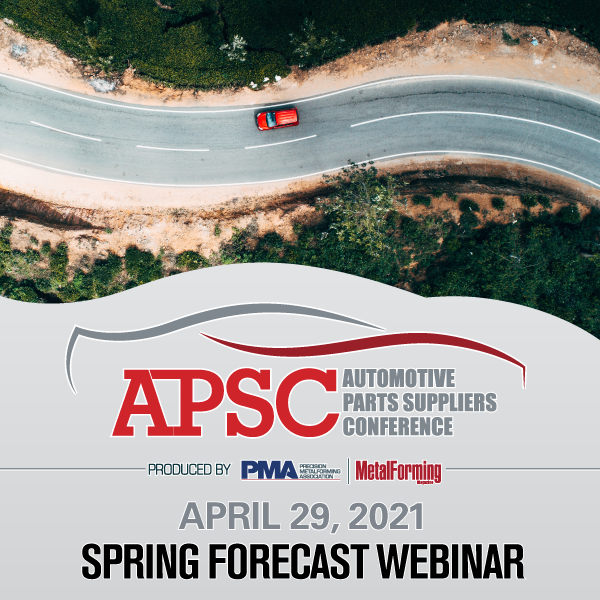 Thursday, April 29, 2021
Webinar | 1:00-3:10: p.m. ET
With the Automotive Parts Suppliers Conference (APSC) rescheduled to October 20-21 in Detroit, PMA has included this webinar with APSC's registration to provide timely and important information about the automotive industry.
In cooperation with:
WEBINAR DETAILS
All times eastern.
1:00 p.m. Welcome
1:10 p.m. Automotive Outlook—Jeff Schuster, LMC Automotive
The auto industry has been resilient and demand has outperformed expectations as the battle with the pandemic's impact continues. Now, the industry faces additional challenges with semiconductor shortages. What is the recovery path forward for autos and what risks and opportunities exist? Longer-term, has the pandemic altered the outlook for autos and the transition to electrification and autonomy?
1:55 p.m. Disruptive Changes in Our Mobility Future – Projected Impacts of Electrification and Other Technologies on Metals Suppliers—Daron Gifford, Plante Moran
Electrification of automobiles has arrived, bringing with it an onslaught of new technologies for automakers and suppliers. Plante Moran research has developed projections of the impact on the global and U.S. markets for automobiles, encompassing the growth of fully electric vehicles, hybrids and traditional ICE powertrains. In addition, projections will highlight the effects on key components and materials, especially for metal forming and stamping suppliers.
2:40 p.m. Q&A Session with Jeff and Daron
3:10 p.m. Wrap Up/Adjourn
Webinar moderated by Brad Kuvin, editorial director, MetalForming magazine.
SPEAKERS
Daron Gifford, Partner, Strategy Consulting Services Leader, Automotive Industry Leader, Plante Moran


Daron Gifford is partner-in-charge of Plante Moran's strategy and automotive industry consulting practices. With more than four decades of industry experience in automotive, manufacturing and energy, Daron is known for his versatility and thoughtful, strategic insights as a trusted advisor to executives around the world. His extensive experience includes technology, operations and strategic-management consulting for a wide range of companies in manufacturing and services, encompassing strategy, market and operational assessments, due diligence, restructuring, and business planning for technologies in advanced vehicles, energy and environmental applications. He also has served as a senior adviser to the U.S. Department of Energy on the automotive industry and advanced technologies.
Jeff Schuster, President, Americas Operation and Global Vehicle Forecasting, LMC Automotive


Jeff Schuster is president, Americas operation and global vehicle forecasting for LMC Automotive, with responsibility for all operations in the Americas region, as well as oversight of global light-vehicle forecasting activity. He is a member of the LMC Automotive board of directors and has been with the firm since 2011. Jeff has been tracking developments in the global automotive industry for more than 20 years and is one of the firm's primary automotive experts.
REGISTRATION
This webinar is included with APSC registration. Register here for APSC in the fall. After registering for APSC, you'll receive the confirmation link a week before the webinar.
If you do not plan on attending APSC, the cost to attend the webinar is:
PMA member: $25
Nonmember: $49
By registering for this event, you agree that your contact information could be shared with our valued event partners and sponsors.
Questions? Contact Ali Miller at 216-901-8800 ext. 152.
Sponsored By
NOTICE:
In order to avoid a known bug found with the Chrome browser, please use the latest version of Microsoft Edge or FireFox when registering.
If you are not attending, but need to register others.