Transfer Automation Seminar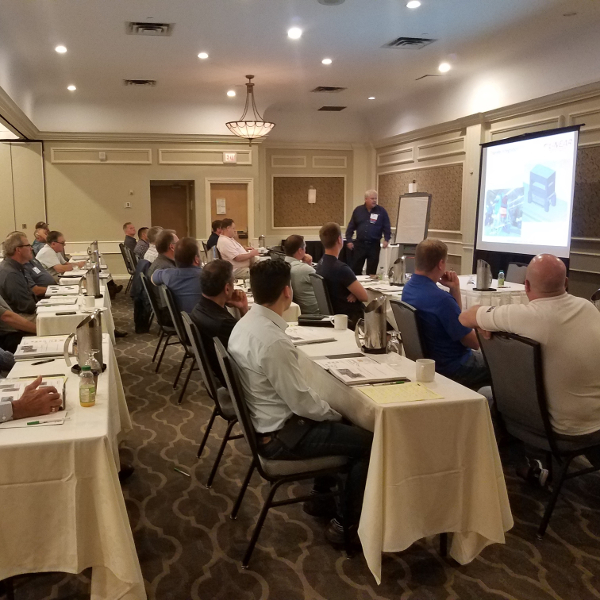 Tuesday, July 9, 2019 - Wednesday, July 10, 2019
Hebron, KY
This multi-speaker program will highlight transfer-process capabilities and tooling technology, and how transfer systems are used to increase production efficiency.
Learn from the experts! Seminar highlights:
Advantages and limitations
Die-design considerations
How transfer technology allows opportunity for added value in your stamping operations
Transfer-press evaluation and design features
Features and design criteria of a good transfer tool
Advantages and cost savings of transfer tooling
New advances in servo-drive technology
A review of high-speed transfer applications for the smaller market segment
Transfer-process capabilities as compared to those of progressive dies
How to evaluate a part and determine whether or not to use transfers
Tandem transfer-press lines
Press-to-press transfer and hot-forming technology
Guidelines for evaluating and selecting a press
Simulation and process optimization
End-of-arm tooling and sensors
Sensors for transfer applications
Presenters
Corey Chamberlain, Co-Owner, T-Sim Solutions
Randy Couture, Regional Sales Manager, AP&T North America, Inc.
Bob Gunst, President, Jacar Systems LLC
Will Healy III, Strategic Marketing Manager, Balluff Inc.
Rob Meyer, General Manager, Servo and Contract Products, Nidec Minster
Paul Stirrett, VP Sales and Marketing, Linear Transfer Automation
Peter Ulintz, Technical Director, Precision Metalforming Association
Brett Vance, Business Development Manager, Prime Controls, Inc.
AGENDA
Tuesday, July 9, 2019
7:45 a.m. Check-in and breakfast
8:30 a.m. Introduction – Transfer-Die Processing
9:00 a.m. Presentations
12:30 p.m. Lunch
1:30 p.m. Presentations
3:30 p.m. Adjourn
4:00 – 5:30 p.m. Reception with presenters
Wednesday, July 10, 2019
7:30 a.m. Breakfasts
8:15 a.m. Presentation
11:45 a.m. Q&A
12:00 p.m. Adjourn
Note: Breakfast, lunch and reception are included with your registration.
SEMINAR LOCATION AND HOTEL ACCOMMODATIONS
Cincinnati Airport Marriott
2395 Progress Drive
Hebron, KY 41048
Reserve your room online or call the Cincinnati Airport Marriott Reservations Center at 800-696-0165 and reference the PMA Transfer Seminar to receive the group rate of $139 per night plus applicable taxes. The cut-off date to receive the discounted group rate is June 24, 2019.
Hotel offers complimentary self-parking and courtesy airport shuttle to and from the Cincinnati Airport. Complimentary airport shuttle is available from 4:30 a.m. – 1:00 a.m. Once you collect your luggage from baggage claim, call the hotel at 859-586-0166 and request a pick up. In the baggage claim area, behind carousel #4, exit the sliding glass doors, labeled Door 10. Hotel shuttle pickup is down the hallway on the right hand side.
REGISTRATION INFORMATION
Register by 6/24/19 and Save $50
$449 Member
$649 Nonmember
After 6/24/19
$499 Member
$699 Nonmember
For more information or to register online, please contact Marianne Sichi at 216-901-8800 ext. 150.