Member Profile
Ulbrich of Illinois, Inc.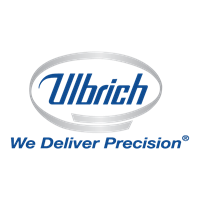 12340 S Laramie Ave
Alsip, IL 60803-3292
United States
Map Location
Phone: (708) 489-9500
Website:
www.ulbrich.com
Facility Size: 0 sq.ft.
Employees: 50-99
PLATINUM MEMBER
PMA Member Since: 1980


The Global Leader in Precision Metals
Ulbrich Stainless Steels & Special Metals, Inc. offers a wide range of products and solutions across multiple industries, helping your ideas become a reality.
We Deliver Precision.
Our unique rolling process makes us capable of delivering a diverse range of profiles and thicknesses in materials, edges, and surfaces to meet our customers' exacting specifications. Check out our capabilities and see how we can work with you to deliver completely customized solutions.
Our Capabilities:
Rolling
Slitting & Edging
Annealing
Finishes & Mechanical Properties
Coating & Plating
Packaging
Markets Served
Aerospace
Automotive After Market
Automotive Tier 1
Automotive Tier 2
Computer
Defense
Electronics
Industrial
Marine
Medical
Telecommunications
Transportation
Products
Steel and other Materials
Materials
Aluminum
Nickel Based Alloys
Precious Metals (Gold/Silver)
Stainless Steel
---