Member Profile
Mid Atlantic Machinery Inc.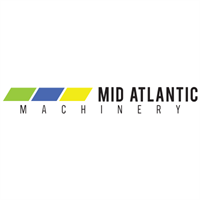 NEW MEMBER
PMA Member Since: 2019


Mid Atlantic Machinery is a leading machine tool distributor that helps the metal fabrication and metalforming industries compete in a global marketplace. Thanks to decades of experience and deep, long-lasting relationships, we help businesses of all sizes implement solutions that increase efficiency and lower costs by integrating the latest stamping, roll forming, fabricating, and tooling technologies. We are also proud to offer service and application engineering as we strive to provide a world class buying experience for our customers.
Mid Atlantic Machinery was started over 25 years ago by Kevin Kilgallen and has grown to include 4 additional divisions: Northeast Machinery Sales out of Agawam, MA; Southern States Machinery out of Mooresville, NC; Southern States Machinery Florida out of Bradenton, FL; and Ehrt North America. Together, we cover the east coast region from Maine to Florida.

Markets Served
Aerospace
Agricultural Equipment
Appliance
Automotive After Market
Automotive Tier 1
Automotive Tier 2
Communication Hardware
Computer
Defense
Electronics
Furniture
Commercial/ Industrial Hardware
Commercial HVAC
Industrial
Lawn and Garden
Marine
Medical
Off Highway
Telecommunications
Transportation
Products
Accessories
Equipment
Machinery
Tooling
---