Member Profile
ARKU, Inc.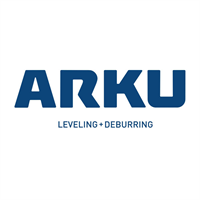 7251 E Kemper Rd
Cincinnati, OH 45249-1030
United States
Map Location
Facility Size: 10,000 sq.ft.
Employees: 1-49
GOLD MEMBER
PMA Member Since: 2006


ARKU, founded in 1928 as a family owned company, is the world market leader in roller levelers and press feeding technology with more than 50 years of experience. ARKU offers the most extensive range of high-capacity and precision levelers, as well as deburring and edge rounding machines. This extensive portfolio is completed with the addition of parts handling solutions for leveling and deburring machines.
With its headquarters in Baden-Baden, Germany, and ISO-certified facilities in Cincinnati (USA) and Kunshan (China), the company operates in nearly 30 countries worldwide. ARKU offers toll processing services in our three leveling and deburring center locations with state-of-the-art high performance machines.
The product range comprises precision levelers, deburring and edge rounding machines for parts, automated parts handling via robots, in-line levelers, cut-to-length lines, press feeding lines and coil entry lines for roll formers. ARKU provides engineering expertise to many manufacturing industries, including automotive, railroad equipment, shipbuilding, construction and furniture, as well as laser job shops and others.
www.arku.com
Certifications
ISO 9001:2015
Markets Served
Aerospace
Agricultural Equipment
Appliance
Automotive After Market
Automotive Tier 1
Automotive Tier 2
Defense
Electronics
Furniture
Commercial HVAC
Industrial
Lawn & Garden
Marine
Medical
Off Highway
Transportation
Materials
Aluminum
Cobalt Based Alloys
Copper
Iron
Nickel Based Alloys
Nonmetal
Precious Metals (Gold/Silver)
Stainless Steel
Titanium
Tool Steel
---