Member Profile
Green Packaging, Inc.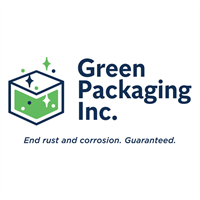 2299 Amber Dr Ste 110
Hatfield, PA 19440-1910
United States
Map Location
Facility Size: 0 sq.ft.
Employees: 1-49
SILVER MEMBER
PMA Member Since: 2016


Green Packaging, Inc. helps companies in the metalforming industry save money and improve quality by preventing rust on their metal parts using VCI (Vapor Corrosion Inhibitor) technology. If rust and corrosion on your metal parts is a never-ending problem, the rust prevention experts at Green Packaging, Inc. can end your rust problems once and for all. Our VCI products are safe, clean, and effective, and protect metal parts from rust much better than old-fashioned, messy RP oils and greases.
At Green Packaging, Inc., there is no "one size fits all" approach to rust prevention. We dive deep into your operations and determine the best possible rust prevention procedures and products for your unique application. Green Packaging, Inc. has the largest inventory of VCI products in the market We offer same-day shipping on most in-stock items, and a 30-minute quote guarantee for custom products. We even offer our industry exclusive Rust Prevention Guarantee.
Contact Green Packaging and put your rust problems behind you forever! Toll-Free (855) 4- NO -RUST, or by email
info@green-vci.com
---