Member Profile
COACT Associates Ltd.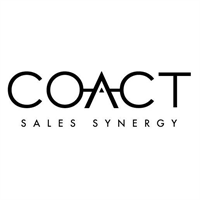 2748 Centennial Rd
Toledo, OH 43617-1829
United States
Map Location
Facility Size: 0 sq.ft.
Employees:
SILVER MEMBER
PMA Member Since: 2018


COACT has been working with leaders in the manufacturing and metal fabrication industries since our inception. We partner with companies across the country to overcome communication challenges, out-think the competition, and connect with the people who matter most to them. As a full-service business growth agency, we integrate sales process, marketing strategy, design, analytics, and research to help our clients realize and achieve their business growth goals.
Leaders of metal fabrication organizations run a lean operation, and tend to have a keen awareness that they lack the process and internal resources to take their company to the next level. We've helped these leaders to establish their market play - whether that is diversifying their client base to work in new sectors, digging deeper within current customers, or gaining more market share. Whatever the strategy, COACT has played an integral role for these organizations by providing talented people, a proven process, and top-notch tools to develop and maintain relationships with a buying audience.
---