Member Profile
OmniSource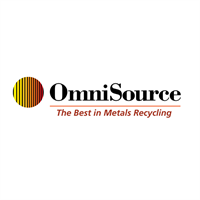 400 E Great Lakes St
River Rouge, MI 48218-2607
United States
Map Location
Facility Size: 400,000 sq.ft.
Employees: 1-49
BRONZE MEMBER
PMA Member Since: 2019


OmniSource is a multifaceted metals-recycling
company—one of North America's largest processors
and distributors of scrap and secondary metals. We
collect, process, and resell a wide variety of scrap metal.
Through recent expansions and acquisitions,
we can now process 7 million tons of ferrous scrap
per year and more than 1 billion pounds of nonferrous
metals. We currently operate more than 70 collection
and processing facilities, including 11 high-capacity
shredders as well as other metals processing facilities,
and employ about 2,500 people.
Markets Served
Aerospace
Agricultural Equipment
Appliance
Automotive After Market
Automotive Tier 1
Automotive Tier 2
Communication Hardware
Computer
Defense
Electronics
Furniture
Commercial/ Industrial Hardware
Commercial HVAC
Industrial
Lawn & Garden
Marine
Medical
Off Highway
Telecommunications
Transportation
---