Member Profile
MAINWAY Metalworks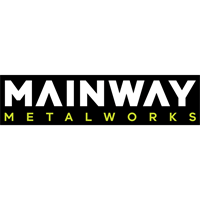 Facility Size: 50,000 sq.ft.
Employees: 100-499
BRONZE MEMBER
PMA Member Since: 2022


Established in 1980, BTD has over 35 years of experience in the automotive and appliance industry specializing in the design and build of progression dies, line dies, draw dies with heavy concentration in automated and progressive tooling for heat transfer components industry.
BTD is known for superiority when producing complicated prototype parts for a large variety of industries.We take pride in the fact that all the necessary tooling components including custom die shoes are machined in-house using our state-of-the-art CNC equipment.
BTD designers have experience with machine design, automotive progressive dies, die transfer, and part development/prototypes. BTD is the "go to" organization for quality parts, quick turn around and on-time delivery. BTD has the ability to produce parts of any quantity while strictly adhering to drawing specifications and tolerances. Known for high quality prototype parts, it is a challenge to decipher if those parts were produced off hard tooling. BTD provides a full in-house stamping facility. Presses and feed lines range from 40 Ton to 800 Ton.
BTD's in-house stamping department not only provides our customer with quality parts, it also provides added value, with spot welding, surface coatings, a robotic weld cell and a full assembly line.
The Burloak difference:
1. We can handle a job from start to finish – die design, prototyping, machining of components and parts, die try-out, production stamping, value-added afterwork such as welding, part certification, and die service and repair.
2. Customers can engage or disengage with us at any point in that process, to suit their needs.
Manufacturing Processes
Metal Fabricating
Metal Spinning
Short Run Stamping (Small Lot)
Tooling, Tools & Dies
In-House Capabilities
Assembly
Blanking
Machining
Prototyping
Tooling, Tool & Die
Waterjet Cutting
Welding
Certifications
ISO 9001:2015
Markets Served
Aerospace
Agricultural
Appliance
Automotive After Market
Automotive Tier 1
Automotive Tier 2
Consumer
Defense
Electronics
Furniture
Hardware
HVAC
Industrial
Lawn & Garden
Medical
Off Highway
Transportation
Materials
Aluminum
Cobalt Based Alloys
Copper
Metal Powders
Nickel Based Alloys
Nonmetal
Stainless Steel
Titanium
Tool Steel
---