Member Profile
Hamilton Precision LLC - A Division of Seilkop Industries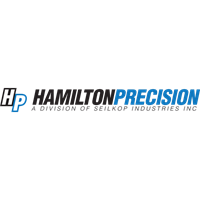 490 Joe Nuxhall Blvd
Hamilton, OH 45011
United States
Map Location
Facility Size: 40,000 sq.ft.
Employees: 1-49
BRONZE MEMBER
PMA Member Since: 2022


Hamilton Precision, LLC, a family-owned business and division of Seilkop Industries, Inc., has two divisions in its 40,000 sq. ft. facility. The first specializes in services for stampers, the die set manufacturing market as well as independent tool and die shops:
1. Burning, Blanchard and Surface Grinding and Oxy-Fuel Cutting
2. Leading Distributor of Steel Plate
3. Precision Die Sets, Die Shoes and Die Components
4. Parallels and Scrap Ramps
5. Machine Plates and Platforms Back to Build-Ready
6. Machining Center for Added Value

It's second division provides expertise primarily to the steel and paper markets:
1. Custom Roll Grinding
2. Equipment Repair
3. Dynamic Balancing of Rolls and Shafts
4. Large Roll and Journal Repair
5. Conductor Roll Reconditioning
6. Crane Wheel Reconditioning

Hamilton Precision's more than four decades of experience has its loyal customers coming back for the quick quote turnaround, competitive pricing, high quality, prompt delivery, and exceptional and flexible customer service.

Markets Served
Aerospace
Agricultural
Appliance
Industrial
Materials
Aluminum
Stainless Steel
---