Die Setting Practices and Press Safety Seminar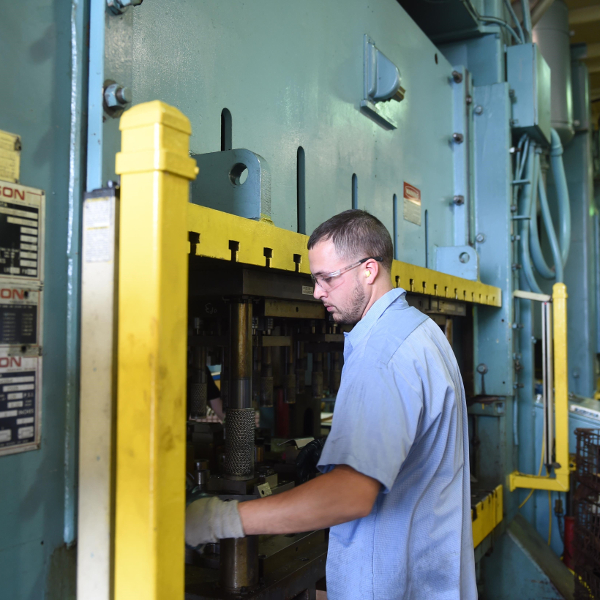 Wednesday, October 2, 2019 - Thursday, October 3, 2019
Hebron, KY
Die setting is a critically important activity that occurs multiple times throughout the day in the modern press shop. Proper die-setting practices and safety procedures are of prime concern because they can greatly impact machine uptime, machine maintenance, overall equipment life, die-maintenance cost, product quality, process repeatability and, most importantly, operator safety. View the event flyer here.
The Die-Setting Practices and Safety Seminar addresses fundamental die-setting concepts and best practices, including:
Press technology, including servo technology
Understanding machine capacity/limitations
Feed-line technology, including straightener types, capabilities and limitations
Feeding progressive dies, including verification steps to assure proper alignment
Establishing and setting feed-release angles
Troubleshooting progressive-die problems
Quick-die-change technology
Safety practices
Counterbalance settings
Recognizing and managing off-center loads and reverse tonnage
Presenters
Jim Barrett, CEO, Link Systems
Robert Meyer, General Manager, Servo & Contract Products, Nidec Press & Automation
Peter Ulintz, Technical Director, Precision Metalforming Association
Todd Wenzel, President, TCR-Integrated Stamping Systems
AGENDA
Wednesday, October 2, 2019
7:30 a.m. Breakfast
8:00 a.m. Presentations
12:00 p.m. Lunch
1:00 p.m. Presentations
4:30 p.m. Adjourn
5:00 – 6:00 pm. Reception with presenters
Thursday, October 3, 2019
7:30 a.m. Breakfast
8:00 a.m. Presentations
11:45 a.m. Lunch
12:30 p.m. Presentations
3:00 p.m. Adjourn
Note: Registration includes breakfast, reception and lunch.
SEMINAR LOCATION AND HOTEL ACCOMMODATIONS
Cincinnati Airport Marriott
2395 Progress Dr.
Hebron, KY
800-696-0165
Reserve your room online or call the hotel reservation line at 800-696-0165. Reference PMA Die Setting Practices Seminar to receive the group rate of $139 (plus tax). PMA rate is available through September 17, 2019. Reservations made after this date are subject to availability at the hotel's prevailing rates.
Hotel offers complimentary self-parking and courtesy airport shuttle to and from the Cincinnati Airport. Complimentary airport shuttle is available from 4:30 a.m. – 1:00 a.m. Once you collect your luggage from baggage claim, call the hotel at 859-586-0166 and request a pick-up. In the baggage claim area, behind carousel #4, exit the sliding glass doors, labeled Door 10. Hotel shuttle pickup is down the hallway on the right-hand side.
REGISTRATION INFORMATION
Register by 9/24/19 and save $100!
$499 PMA members
$699 Nonmembers
After 9/24/19
$599 Members
$799 Nonmembers
Note: Registration includes breakfast, lunch and reception.
For more information or to register over the phone, please contact Marianne Sichi at 216-901-8800 ext. 150.