Upcoming Events
What's Next?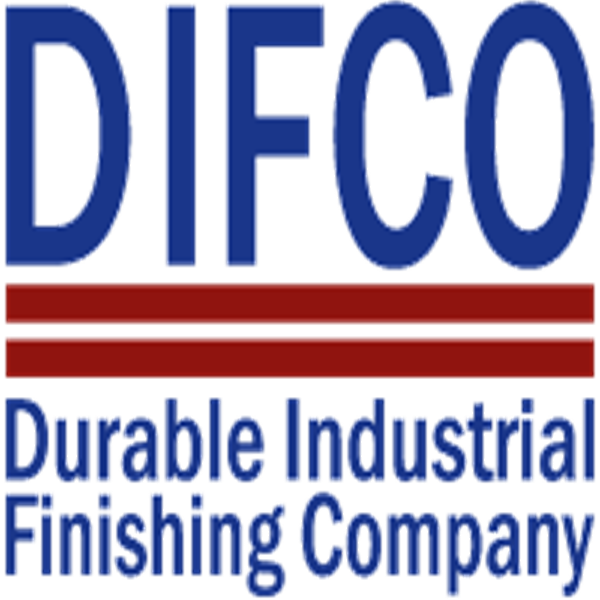 PMA Southeast District DIFCO Plant Tour
THU, DEC 7 2023
Tucker, GA
Join us on Thursday, December 7 for our last event of the year at Durable Industrial Finishing Co. (DIFCO) located in Tucker, GA. Learn from PMA Southeast District officer, Terry Windham, as he presents on metal finishing. Additionally, enjoy a guided tour of the 65,000 square foot facility.
---
Upcoming Events
Don't miss these upcoming events!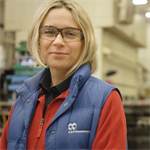 PMA Tennessee District - Engaging Women in Metal Forming - Mfg - Metals – Engineering Event
THU, DEC 7 2023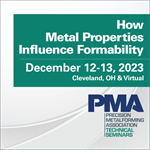 Steel, Aluminum and Stainless Steel: How Metal Properties Influence Formability Seminar
TUE, DEC 12 2023 - WED, DEC 13 2023
Cleveland, OH & Virtual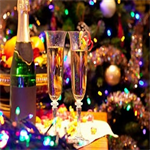 Southern New England District Holiday Party with Speaker Laurie Harbour
WED, DEC 13 2023
One Voice in Washington: Public Policy Update
FRI, JAN 5 2024
Webinar | 12:00-12:30 p.m. ET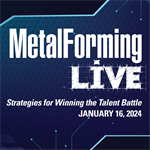 MetalForming LIVE: Recruit, Retain, Train
TUE, JAN 16 2024
January 16, 2024 | 2:00-3:30 p.m. ET | Virtual Event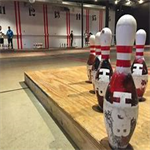 PMA East Michigan District Social Event at HUB Stadium
WED, JAN 17 2024
HUB Stadium - Auburn Hills, MI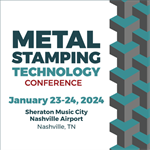 Metal Stamping Technology Conference
MON, JAN 22 2024 - WED, JAN 24 2024
Nashville, TN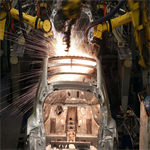 PMA Tennessee District Nissan Vehicle Plant Tour
THU, JAN 25 2024
Smyrna, TN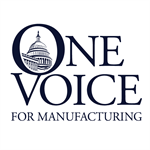 One Voice in Washington: Public Policy Update
FRI, FEB 2 2024
Webinar | 12:00-12:30 p.m. ET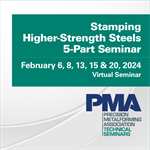 Stamping Higher-Strength Steels 5-Part Virtual Seminar Series
TUE, FEB 6 2024
Virtual Seminar
Metal Spinning Division February 2024 Meeting
WED, FEB 21 2024 - FRI, FEB 23 2024
Clearwater, FL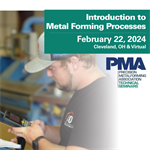 Introduction to Metal Forming Processes Seminar
THU, FEB 22 2024
Cleveland, OH & Virtual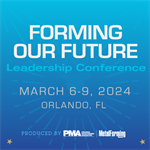 Forming Our Future 2024
WED, MAR 6 2024 - SAT, MAR 9 2024
Orlando, FL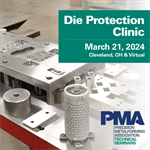 Die Protection Clinic
THU, MAR 21 2024
Cleveland, OH & Virtual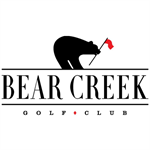 PMA Lone Star District 2nd Annual Golf Outing
TUE, APR 9 2024
Bear Creek Golf Club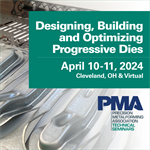 Designing, Building and Optimizing Progressive Dies Seminar
WED, APR 10 2024 - THU, APR 11 2024
Cleveland, OH & Virtual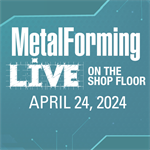 MetalForming LIVE on the Shop Floor
WED, APR 24 2024
April 24 & December 11, 2024 | 2:00-3:30 p.m. ET | Virtual Event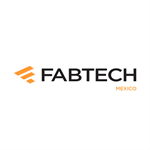 FABTECH Mexico
TUE, MAY 7 2024 - FRI, MAY 10 2024
Monterrey, MX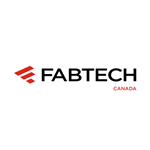 FABTECH Canada
TUE, JUN 11 2024 - FRI, JUN 14 2024
Toronto, ON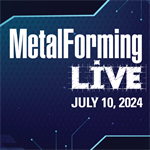 MetalForming LIVE Virtual Series
WED, JUL 10 2024
July 10 and 24 & August 6, 2024 | 2:00-3:00 p.m. ET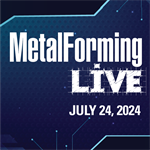 MetalForming LIVE 2024 Part Two
WED, JUL 24 2024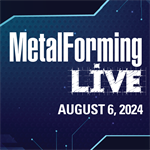 MetalForming LIVE 2024 Part Three
TUE, AUG 6 2024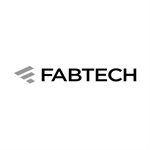 FABTECH
TUE, OCT 15 2024 - FRI, OCT 18 2024
Orlando, FL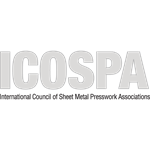 21st ICOSPA International Congress
WED, OCT 23 2024 - FRI, OCT 25 2024
Osaka, Japan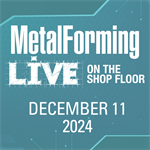 MetalForming LIVE on the Shop Floor Part 2
WED, DEC 11 2024
December 11, 2024 | 2:00-3:30 p.m. ET | Virtual Event