Upcoming Events
What's Next?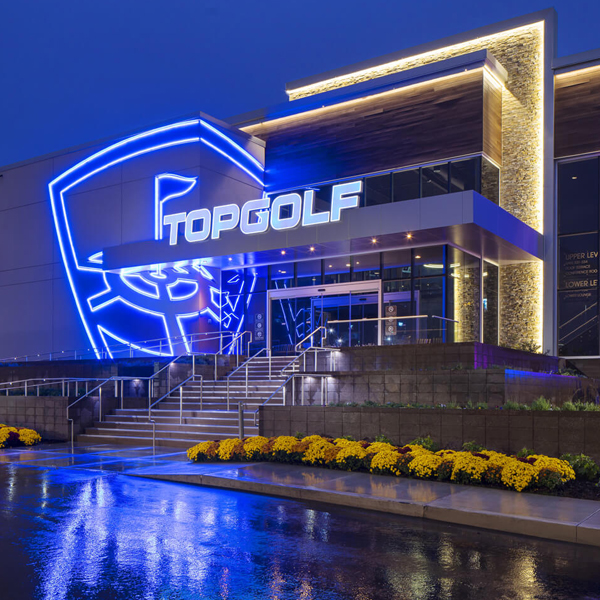 PMA Indiana Topgolf Social and Metals Market Update
THU, FEB 9 2023
Join the PMA Indiana District at Topgolf on Thursday, February 9, for an afternoon of friendly competition and exceptional networking. Prior to teeing off, a special guest speaker will provide a metals market update and forecast for the year ahead.
If you are not attending, but need to register others.

---
Upcoming Events
Don't miss these upcoming events!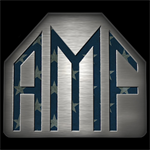 Lone Star Plant Tour: All Metals Fabricating
THU, FEB 16 2023
Allen, TX
Qualification Process When Using Sustainable Metal Powders for AM in a Production Environment
THU, FEB 16 2023
Webinar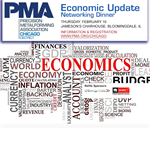 Chicago Economic Update
THU, FEB 16 2023
Bloomingdale, IL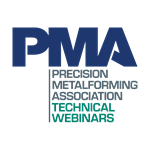 Introduction to Metal Stamping Processes Webinar
TUE, FEB 21 2023
Webinar | 1:00 - 3:00 p.m. ET
Solving the People Problem: Solutions that Work
WED, FEB 22 2023
Webinar | 2:00 p.m.- 3:00 p.m. ET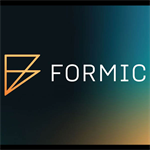 Southern New England Dinner Presentation: Automation and Robotics "As a Service"
WED, FEB 22 2023
Waterbury, CT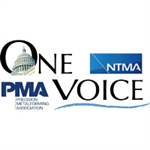 One Voice in Washington: Public Policy Update
FRI, FEB 24 2023
Webinar | 12:00-12:30 p.m. ET
Forming Our Future 2023
WED, MAR 1 2023 - SAT, MAR 4 2023
Huntington Beach, CA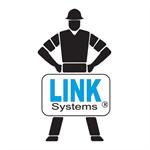 PMA Tennessee - Industry Trends Dinner and Networking at Link Systems
THU, MAR 16 2023
Nashville, TN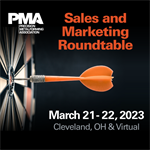 Sales and Marketing Roundtable 2023
TUE, MAR 21 2023 - WED, MAR 22 2023
Cleveland, OH & Virtual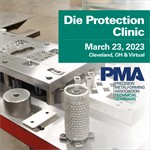 Die Protection Clinic
THU, MAR 23 2023
Cleveland, OH & Virtual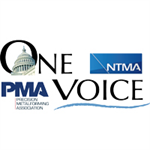 One Voice in Washington: Public Policy Update
FRI, MAR 24 2023
Webinar | 12:00-12:30 p.m. ET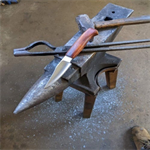 Southern New England - Knife Making 101 with Forged in Fire Champion
SAT, MAR 25 2023 - SUN, MAR 26 2023
Wolcott, CT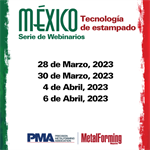 Serie de Seminarios Web México sobre Tecnología de Estampados
TUE, MAR 28 2023
Webinar Series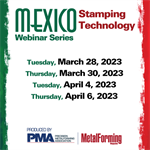 Mexico Stamping Technology Webinar Series
TUE, MAR 28 2023
9:00 a.m.-12:00 p.m. ET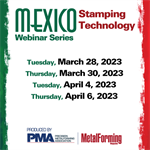 Mexico Stamping Technology Webinar Series | Part Two
THU, MAR 30 2023
9:00 a.m.-12:00 p.m. ET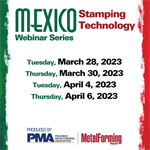 Mexico Stamping Technology Webinar Series | Part Three
TUE, APR 4 2023
9:00 a.m.-12:00 p.m. ET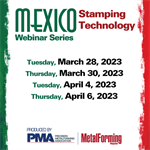 Mexico Stamping Technology Webinar Series | Part Four
THU, APR 6 2023
9:00 a.m.-12:00 p.m. ET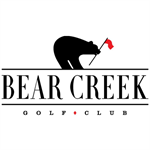 PMA Lone Star District Annual Golf Tournament
TUE, APR 11 2023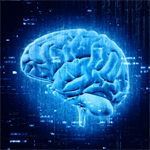 Brain-Based Balance & Productivity
TUE, APR 11 2023
Webinar | 2:00 p.m.- 3:00 p.m. ET
PMA Chicago District Suppliers Night
THU, APR 13 2023
Press Maintenance, Troubleshooting and Safety Seminar
TUE, APR 18 2023
Cleveland, OH & Virtual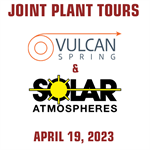 PMA Mid-Atlantic Joint Plant Tours: Solar Atmospheres and Vulcan Spring
WED, APR 19 2023
Souderton, PA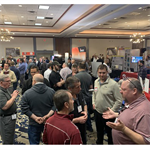 PMA Cleveland District Suppliers Night
THU, APR 27 2023
Independence, OH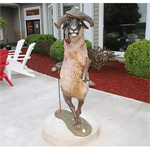 PMA Tennessee Annual Spring Golf Tournament
MON, MAY 8 2023
Old Hickory, TN
Estimating Metal Stamping Dies and Parts
TUE, MAY 9 2023
Cleveland, OH & Virtual
Designing, Building and Optimizing Progressive Die
WED, JUN 21 2023 - THU, JUN 22 2023
Cleveland, OH & Virtual
Die-Setting Practices and Safety Seminar
WED, JUL 19 2023 - THU, JUL 20 2023
Cleveland, OH & Virtual
Deep Draw Technology Boot Camp
TUE, AUG 15 2023 - THU, AUG 17 2023
Cleveland, OH & Virtual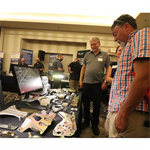 PMA Tennessee District: 8th Annual MFG/Suppliers Night
THU, NOV 16 2023
Nashville, TN