Upcoming Events
What's Next?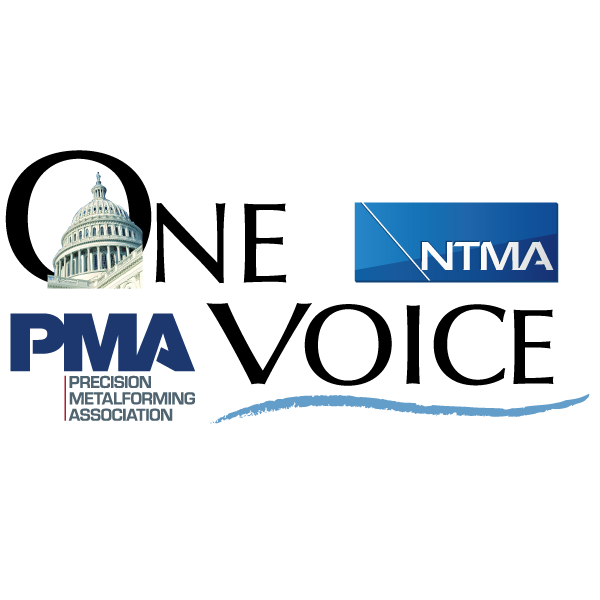 PMA Chicago District meeting with U.S. Congressman Raja Krishnamoorthi
MON, APR 19 2021
Virtual Meeting | 12:00 - 1:00 p.m. CT
Canceled - We may potentially reschedule and will alert you to any future opportunities.
The PMA Chicago District, in partnership with the National Tooling and Machining Association (NTMA), is hosting a virtual Zoom meeting on April 19 at 12:00 p.m. CT featuring Congressman Raja Krishnamoorthi (IL-08) and our One Voice Washington, D.C. lobbyist, Omar Nashashibi of The Franklin Partnership.
---
Upcoming Events
Don't miss these upcoming events!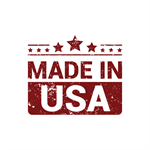 Made in USA: Is It Really?
WED, APR 21 2021
Webinar | 11:00 AM - 12:00 PM ET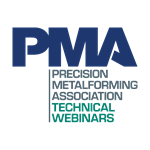 Introduction to Metalforming Processes Webinar
THU, APR 22 2021
Webinar | 1:00 - 2:30 P.M. ET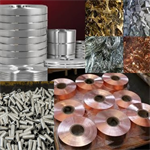 PMA Indiana Metal Market Panel Discussion
THU, APR 22 2021
Virtual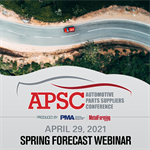 APSC Spring Forecast Webinar
THU, APR 29 2021
Webinar | 1:00-3:10: p.m. ET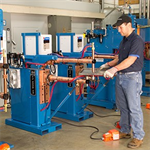 PMA Twin Cities District: Series #3 Resistance Welding – It is all about Consistency Webinar
TUE, MAY 4 2021
Virtual Meeting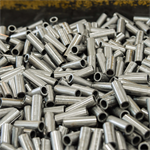 State of Steel: Facts and Challenges
THU, MAY 6 2021
Webinar | 2:00-3:00 PM ET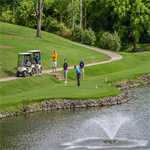 Tennessee District: 28th Annual PMA Tennessee District Spring Golf Outing
MON, MAY 10 2021
Old Hickory, TN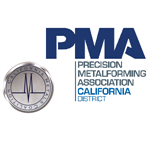 Top 5 Issues Impacting California Metal Facilities
WED, MAY 12 2021
Webinar 2:00 - 3:00 P.M. ET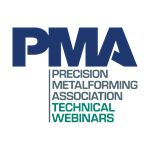 Problem-Solving Methodology for Progressive Dies Virtual Seminar
THU, MAY 13 2021
Virtual Seminar | 12:00 - 3:30 p.m. ET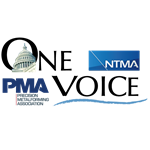 One Voice in Washington: Public Policy and COVID-19 Update
FRI, MAY 14 2021
Webinar | 12:00-1:00 p.m. ET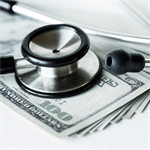 ICHRA: Control Your Healthcare Spend, Once and For All
WED, MAY 19 2021
Webinar: 11:00 a.m. - 12:00 p.m. ET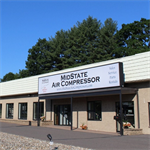 Southern New England District Presentation: Compressed Air - The 4th Utility
WED, MAY 26 2021
Grand Oak Villa, Oakville, CT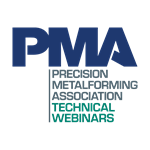 Estimating Metal Stamping Dies Virtual Seminar
THU, JUN 3 2021
Virtual Seminar | 12:00 - 3:30 p.m. ET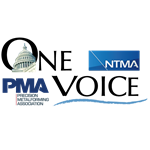 PMA Tennessee District meeting with U.S. Congressman Jim Cooper
THU, JUN 3 2021
Virtual Meeting | 10:00 - 11:00 a.m. CT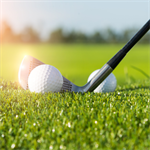 Twin Cities District: 2021 Golf Outing
MON, JUN 7 2021
Oak Grove, MN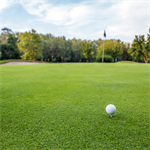 PMA Cleveland District: 2021 Golf Outing
MON, JUN 7 2021
Medina, OH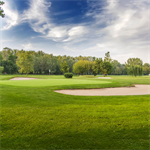 West Michigan District: Annual Golf Outing
MON, JUN 14 2021
Grand Rapids, MI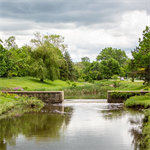 Chicago District 2021 Golf Outing
THU, JUN 17 2021
Woodridge, IL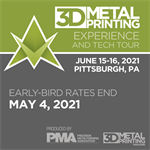 3D Metal Printing Virtual Experience and Tech Tour 2021
TUE, JUN 22 2021
June 22 & 24, 2021 | Webinar Series
3D Metal Printing Experience and Tech Tour Day 2
THU, JUN 24 2021
June 22 & 24, 2021 | Virtual Event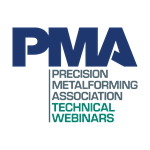 Pricing Jobs in Today's Economy Virtual Seminar
THU, JUN 24 2021
Virtual Seminar | 12:00 - 3:30 p.m. ET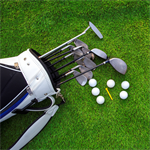 Southern New England District: PMA/CTMA Golf Outing
FRI, JUL 16 2021
Farmington, CT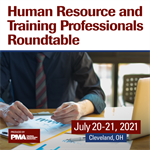 Human Resource and Training Professionals Roundtable
TUE, JUL 20 2021 - WED, JUL 21 2021
Cleveland, OH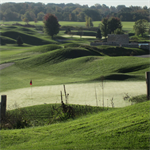 SAVE THE DATE - Wisconsin District 2021 Golf Outing
THU, AUG 12 2021
Sussex, WI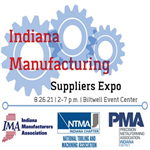 PMA Indiana District: Suppliers Night
THU, AUG 26 2021
Indianapolis, IN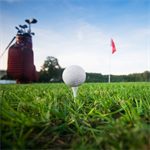 PMA Indiana District: Golf Outing
FRI, AUG 27 2021
Carmel, IN
West Michigan District - Advocacy Golf Outing
MON, AUG 30 2021
Grandville, MI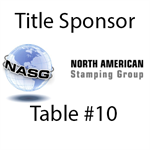 PMA Tennessee District: 6th Annual MFG/Suppliers Night
THU, SEP 2 2021
Nashville, TN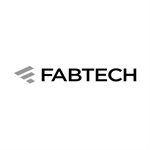 FABTECH
MON, SEP 13 2021 - THU, SEP 16 2021
Chicago, IL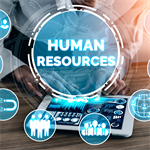 Human Resource and Training Professionals Virtual Roundtable
TUE, SEP 21 2021
Virtual Roundtable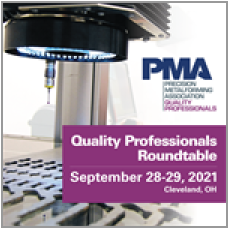 Quality Professionals Roundtable 2021
TUE, SEP 28 2021 - WED, SEP 29 2021
Cleveland, OH
Metal Stamping Technology for the Mexico Market
THU, OCT 7 2021
Webinar Series
Metal Stamping Technology for the Mexico Market Webinar Series | Part Two
TUE, OCT 12 2021
Webinar
Metal Stamping Technology for the Mexico Market Webinar Series | Part Three
THU, OCT 14 2021
Webinar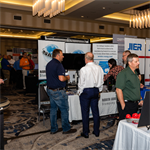 Chicago District: 2021 Suppliers Night
THU, OCT 14 2021
Addison, IL
Metal Stamping Technology for the Mexico Market Webinar Series | Part Four
TUE, OCT 19 2021
Webinar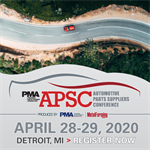 Automotive Parts Suppliers Conference 2021
WED, OCT 20 2021 - THU, OCT 21 2021
Detroit, MI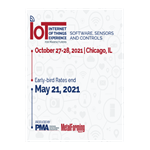 Internet of Things Experience for Manufacturers
WED, OCT 27 2021 - THU, OCT 28 2021
Chicago, IL
Forming Our Future 2022
SUN, FEB 13 2022 - WED, FEB 16 2022
Key Largo, FL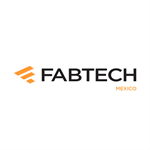 FABTECH Mexico
TUE, MAY 3 2022 - THU, MAY 5 2022
Monterrey, MX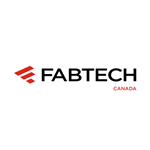 FABTECH Canada
TUE, JUN 14 2022 - THU, JUN 16 2022
Toronto, ON