PMA Mid-Atlantic Joint Plant Tours: Solar Atmospheres and Vulcan Spring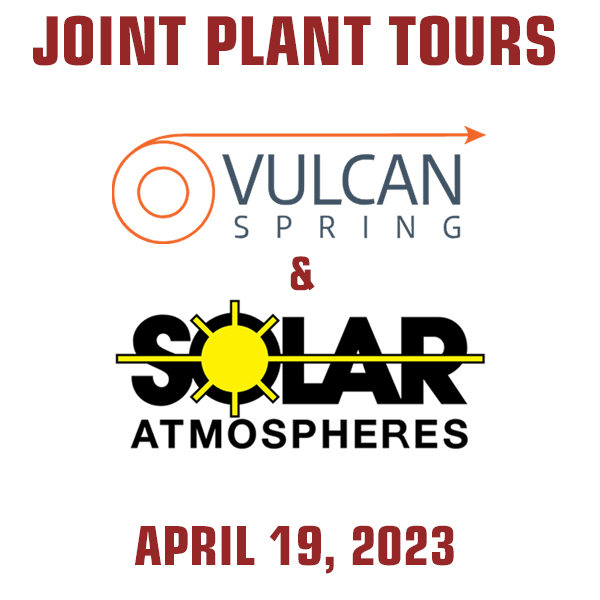 Wednesday, April 19, 2023
Souderton, PA
Join the PMA Mid-Atlantic District on Wednesday, April 19 in Souderton, PA for a joint plant tour and networking event, featuring Solar Atmospheres and Vulcan Spring. We have planned an entire day of plant tours, guest speakers and a special networking lunch.
This is a limited engagement, with a maximum attendance of 70 guests.
About Vulcan Spring
Vulcan Spring is a global supplier of mass-produced spring solutions, headquartered in Telford, PA. With innovative machinery, tooling and engineers, the company can deliver a spring solution for even the most challenging applications. For industrial or POP displays and beyond, they are equipped for the quality and timely production of millions of springs, all while promising to make your experience from concept to production as easy as possible. Vulcan can produce springs for any application, in industries including:
Aerospace and defense
Automotive and transportation
Industrial applications
Medical device and healthcare
Point-of-purchase and retail displays
Window and window shades
Firearms
Fire dampers
Recognized by ISO and backed by statistical data and other studies that confirm their production precision and consistency, they stand ready to custom build and design springs to spec.
Vulcan Spring also has been a proud sponsor of the FIRST Robotics Competition since 2007. FIRST was started by Dean Kamen, an American inventor and entrepreneur widely known for inventing the Segway, to help kids understand the importance of working as team to solve a problem involving science and engineering. It's as close to "real-world engineering" as a student can get. FRC combines the excitement of sports with the rigors of science and technology.

About Solar Atmospheres
Solar Atmospheres is a commercial heat treating company with unsurpassed quality and capacity for vacuum heat treating and brazing. With five plant sites throughout the United States, the company serves customers in industries including:
Aerospace
Automotive
Defense
Medical
Power generation
And more
Solar operates over 70 furnaces with advanced 10 to 20 bar quenching from lab-sized to one of the world's largest commercial vacuum furnaces (up to 48 ft. long with a 150,000 lb. capacity). Additional services include continuously upgraded, state-of-the-art furnace technology from sister company Solar Manufacturing, expert metallurgical consultation and R&D services for custom processes and unique challenges, onsite laboratory for hardness and microhardness testing, and coast-to-coast, 24/7 operations.
Solar Atmospheres also regularly participates in student education by coordinating with local schools and universities to host engineering plant tours. Most recently, Solar hosted more than 40 high school students enrolled in the Summer Engineering Institute (SEI) at Lehigh University.

AGENDA
Wednesday, April 19
There will be concurrent tours of Vulcan Spring and Solar Atmospheres for both the morning and afternoon. So, start at one facility in the morning, and see the other in the afternoon. You will be able to let us know which MORNING tour you want to start at during registration.
Morning Tours
9:00 - 10:00 a.m. – Registration, light breakfast, safety review and opening remarks
10:00 - 11:30 a.m. – Tour and Q&A
11:30 a.m. – Depart for networking lunch
12:00 - 2:00 p.m. – Networking lunch
Afternoon Tours
2:00-2:15 p.m. – Depart from networking lunch for afternoon tours
2:15-2:30 p.m. – Safety review and opening remarks
2:30-4:00 p.m. – Tour and Q&A
4:00 p.m. – Adjourn

LOCATIONS
Plant Tours
Networking Lunch
Need a place to stay?
Check out page 7 on the Solar Atmospheres' Visitor Guide for a list of local hotels. Get it here.
REGISTRATION INFORMATION
Both Solar Atmospheres and Vulcan Spring reserve the right to review the list of tour registrants and deny any individual or company access to the manufacturing areas due to a competitive situation.
Solar Atmospheres is an ITAR / EAR regulated company and will require visitors to present a valid U.S. driver's license or passport. In addition, registrants touring Solar Atmospheres will be required to complete a visitor affidavit and visitor health and safety rules acknowledgement. Instructions and a link to complete the information online will be included with your registration confirmation.
For more information or to register over the phone, please contact Randy Kish at 216-901-8800 x144.
NOTICE:
In order to avoid a known bug found with the Chrome browser, please use the latest version of Microsoft Edge or FireFox when registering.
If you are not attending, but need to register others.