Southern New England Joint PMA/CTMA Plant Tour: Yarde Metals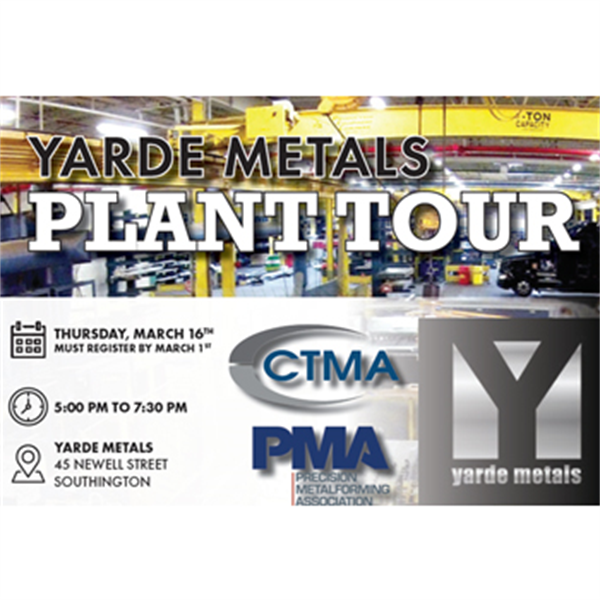 Thursday, March 16, 2023
Southington, CT
Join PMA and CTMA for a tour of Yarde Metals, followed by food, beverages and networking.
Yarde Metals carries a multi-metal inventory specializing in aluminum, stainless, carbon steel and brass in a wide range of standard, unique and hard to find sizes. The company adheres to universal quality standards by maintaining ISO 9001:2015 and AS9100 Rev D certifications.
The company's greatest asset is their team of 600 highly motivated associates. Every Yarde associate plays an essential role in keeping customers happy and loyal. Craig Yarde founded Yarde Metals Inc. in 1976 when he established a small office in the basement of his home in Bristol, Connecticut and began brokering metal over the phone with $1,000 from the sale of his motorcycle. Since its inception Yarde has grown to become a world leader in material sales and is currently located in its 500,000 square foot facility in Southington, CT.
EVENT DETAILS
DATE:
Thursday, March 16
TIME:
5:00 p.m. - 7:30 p.m. ET
LOCATION:
Yarde Metals
45 Newell St.
Southington, CT

REGISTRATION INFORMATION
Registation deadline is March 13. Proper protective wear is required.
Yarde Metals reserves the right to review the list of tour registrants and deny any individual or company access to the manufacturing areas due to a competitive situation.
Contact Katie Barry for more information. Contact Randy Kish at 216-901-8800 x144 to register over the phone.