Die Protection Clinic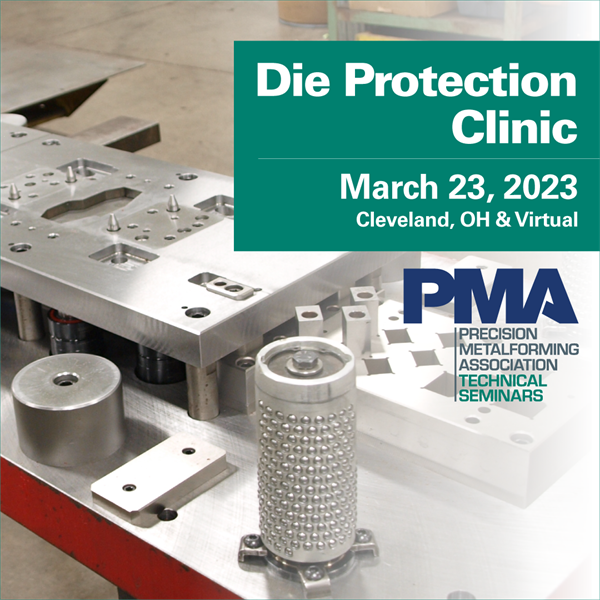 Thursday, March 23, 2023
Cleveland, OH & Virtual
Make die crashes a thing of the past.
Join your metalforming peers for a full-day die protection clinic. The Wintriss Die Protection Clinic has been the metalforming industry's premier source for die protection and in-die sensing information and training.
Die Clinic Highlights
Theory
Find out how to get the most out of your die protection system. This seminar details the proper use of various control functions and identifies the five most important factors to consider when selecting a system.
Sensors
From basic probes to state-of-the-art electronic sensors, you will be shown how to select and properly apply the right sensor for any application. You also will learn the advantages and limitations of each sensor type, as well as tips and tricks on selection installation and wiring.
Implementation
You will be shown specific instructions on how to select a sensor that will last in a stamping die. This seminar provides an overview of the testing process to ensure that each application is robust enough for a production environment. Also discussed are wiring guidelines, along with recommended sensor connection hardware.
Learn the most effective methods for sensing:

Non-ejected Parts
Feed Problems
Part Transfer
Stripper Position
Slug Ejection
Cam Return
Ejection Cylinders
Double Blanks
Material Buckling
Pulled Slugs

Who should attend:

Tool Designers
Tool Makers
Tooling Engineers
Manufacturing Engineers
Sensor Specialists
Engineering Management
Production Managers
Setup Personnel
Maintenance Professionals
Electricians & Press Operators
Download seminar flyer
.
Agenda
Thursday, March 23, 2023
7:30 a.m. Breakfast
8:00 a.m. Presentation
12:00 p.m. Lunch
12:45 p.m. Presentation
4:30 p.m. Adjourn
Instructor
James Finnerty, Product Manager, Wintriss Controls Group LLC

Jim Finnerty has been with Wintriss Controls Group for more than 40 years and is responsible for new-product development and sensor applications. He has helped metal stampers implement sensors and prevent die crashes for more than 40 years and has published numerous articles pertinent to the metalforming industry. He also is an active member of the Precision Metalforming Association, serving on multiple committees and presenting at countless PMA technical seminars, FABTECH and conferences around the world.
Seminar Location
Precision Metalforming Association
6363 Oak Tree Blvd., Independence, OH 44131
216-901-8800
Hotel Accommodations
Holiday Inn Cleveland South
6001 Rockside Rd. Independence, OH 44131
216-524-8050
To make hotel reservations, reserve online or call 216-524-8050 ext. 298 and reference Precision Metalforming Association corporate to receive the rate of $108 per night plus applicable taxes. Hotel accommodations include free self-parking. Hotel does not provide shuttle transportation.
REGISTRATION INFORMATION
In-Person/Virtual
$349 Members
$549 Nonmembers
Note: In-person registration includes breakfast and lunch.
Questions or to register by phone, please call Marianne Sichi at 216-901-8800 ext. 150.
Sponsored by