Quality Professionals Roundtable 2022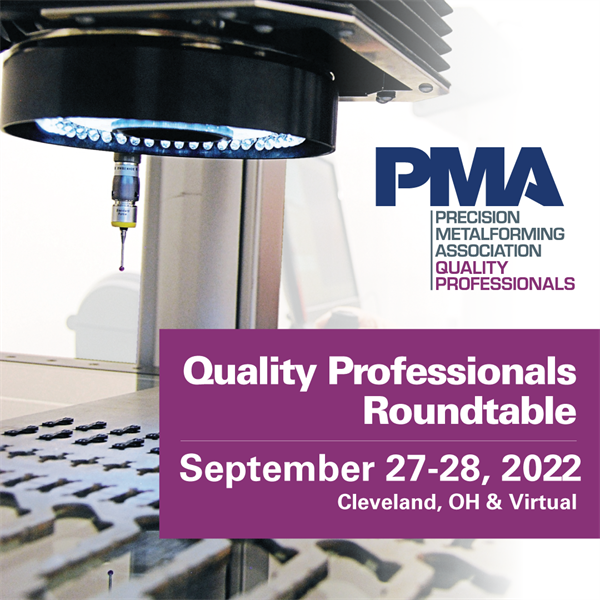 Tuesday, September 27, 2022 - Wednesday, September 28, 2022
Cleveland, OH & Virtual
Join us for PMA's Quality Professionals Roundtable! Attendees will have the opportunity to exchange views, share experiences, discuss new quality system requirements and methodologies with peers, establish relationships and receive information on new quality standards and technology.
The roundtable will be hybrid with an in-person or virtual registration option. Choose the one that works best for you.
AGENDA
Tuesday, September 27
6:00 p.m. Cocktails and Dinner—Corleone's Ristorante & Bar
5669, Broadview Rd., Cleveland, OH 44134
Wednesday, September 28
8:00 a.m. Continental Breakfast
8:30 a.m. Welcome and Review of Antitrust Guidelines
8:35 a.m. Personal Introductions and Identify Pain Points (hot button topics for discussion)
9:00 a.m. Capability Indices – Are They Capable?—Bob Doering, Welser Profile
Customers have forced onto their suppliers the classic Ppk and Cpk capability requirements, yet few understand the limited application or meaning of these indices. Many automotive customers are oblivious to the limitations specified in their own AIAG manuals. Stop, take a breath and discover what is really going on with capability indices. Find out what their value, if any, really is. This presentation includes case studies concerning capability analysis of non-normal characteristics.
10:00 a.m. Break
10:15 a.m. Roundtable Discussion
12:00 p.m. Lunch
1:00 p.m. The Mysteries and Miseries of Gage R&R – A Peek Behind the Curtain—Bob Doering, Welser Profile
For years, many people have believed that there is black magic in the old Gage R&R that will proclaim if a gage is "good enough" or not. The truth is, there is more to it than a plug-and-chug test. Proper preparation and execution, along with some process knowledge, goes a long way to meaningful results. Should you "mark parts?" What variation should the parts have? Should you do Gage R&R annually? What does Gage R&R tell you, and what does it not tell you? This presentation unravels the knot of Gage R&R!
2:00 p.m. Roundtable Discussion
4:00 p.m. Closing Remarks/Adjourn
SPEAKER
Bob Doering, Quality Engineer, Welser Profile
Bob Doering has more than 40 years of industrial experience, many of which were in precision machining of automotive and medical components. He has been in the quality field for more than 30 years, and is currently a quality engineer for an automotive component manufacturing firm, as well as a consultant in SPC, metrology and quality concepts training.
Bob has implemented the CorrectSPC concepts in precision machining for more than 20 years with significant success. He authored a seminal guide in statistical process control for machining, CorrectSPC: When 'normal' is not typical, and a white paper, Capability Calculations: Are AIAG SPC Appendix F Conclusions Wrong?

Bob is an adjunct instructor at Lorain County Community College in Engineering Technology and Enrollment Services departments and has lectured classes in Metrology and Quality Management. He holds associates degrees from Lorain County Community College and The University of Akron, and a BA in Business and an MBA in Systems Management from Baldwin-Wallace College. He is a senior ASQ member and holds CMI and formerly held CMQ/OE, CQE, CQA (ASQ) certifications.
FACILITATOR
Mark Netzel, Vice President of Quality, Die-Matic Corporation

Mark Netzel, vice president of quality at Die-Matic Corp., has more than 30 years of manufacturing quality assurance/control experience, working as a press operator, quality inspector, quality engineer, quality manager, director and vice president. He has been involved with quality systems development, root cause/corrective action development and all aspects of manufacturing quality from company objectives, strategic planning and employee training, among others.
Mark has served as the education chair for the Cleveland Section of the American Society for Quality (ASQ) since 2000 and has worked as a course instructor in many areas. He spoke at the ISO World Conference in 2018 as well as at FABTECH 2019. Mark holds eight different quality certificates through ASQ, as well as associate's degrees in Business Management and Purchasing Management/Supply Chain.
ROUNDTABLE LOCATION
Precision Metalforming Association
6363 Oak Tree Blvd.
Independence, OH 44131
216-901-8800
HOTEL ACCOMMODATIONS
Holiday Inn Cleveland South
6001 Rockside Rd.
Independence, OH 44131
Room Rate: $104 per night plus applicable taxes
Hotel accommodations include free self-parking. Hotel does not provide airport transportation.
REGISTRATION INFORMATION
IN-PERSON/VIRTUAL
Through September 13
PMA Member: $399
Nonmember: $599
IN-PERSON/VIRTUAL
After September 13
PMA Member: $449
Nonmember: $649
Questions? Contact Ali Miller at 216-901-8800 ext. 152.
Review PMA's COVID-19 safety information.
By registering for this event, you agree that your contact information could be shared with our valued event partners and sponsors.
Sponsored by