Die-Setting Practices and Safety Seminar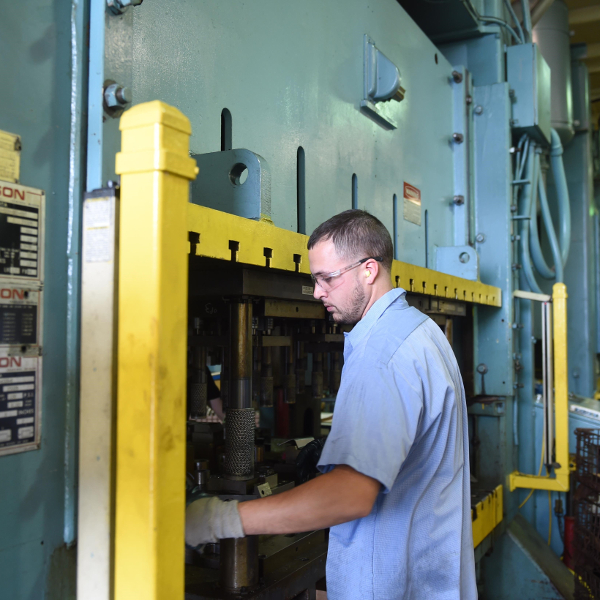 Wednesday, July 20, 2022 - Thursday, July 21, 2022
Cleveland, OH & Virtual
Die setting is a critically important activity that occurs multiple times throughout the day in the modern press shop. Proper die-setting practices and safety procedures are of prime concern because they can greatly impact machine uptime, machine maintenance, overall equipment life, die-maintenance cost, product quality, process repeatability and, most importantly, operator safety.
This seminar addresses fundamental die-setting concepts and best practices, including:
Understanding press capacity/limitations
Servo drive technology
Press safety and point of operation safeguarding
Die removal and installation steps
Die clamps and fastener selection
Die clamping methods
Clamping problems to avoid
Setting the feed and straightener
Feed angle, sensor windows, and pilot release timing
Troubleshooting setup-related problems
AGENDA
Wednesday, July 20, 2022
7:30 a.m. Breakfast
8:00 a.m. Presentations
12:00 p.m. Lunch
12:45 p.m. Presentations
4:30 p.m. Adjourn
Thursday, July 21, 2022
7:30 a.m. Breakfast
8:00 a.m. Presentations
12:00 p.m. Lunch
12:45 p.m. Presentations
4:30 p.m. Adjourn
PRESENTERS
Jim Barrett, CEO, Link Systems

James G. Barrett, Jr. is a founder and CEO of Link Systems, a company formed in 1972 that provides controls, light curtains, process monitoring and shop floor information systems for the metal stamping industry. He was head of electrical engineering and safety engineering at the University of Tennessee, Nashville for 11 years, and taught press courses at the National OSHA Training Institute under contract to the U.S. Department of Labor for many years. He has been Chairman of the Associate Members and on the Board of Directors of PMA several times. He is currently the PMA representative to the B11 Accredited Standards Committee which governs all of the B11 machine tool standards and is a member of several writing subcommittees. He is also on the ASSE Z244.1 committee for Lockout/tagout.
Peter Ulintz, Technical Director, Precision Metalforming Association

Peter Ulintz worked in the metal stamping and tool and die industries for 37 years prior to joining PMA in 2015 as technical director. His background includes tool and die making, die processing and design, engineering management, and product development. Peter speaks regularly at PMA technical seminars and conferences. He is past president of the North American Deep Drawing Research Group, and authors the Tooling by Design column in MetalForming magazine.
Todd Wenzel, President, TCR-Integrated Stamping Systems

Todd Wenzel is president of TCR Integrated Stamping Systems, Wisconsin Rapids, WI. TCR provides consulting, service, and sales and turnkey installations of capital equipment for hand-fed, progressive-die and transfer stamping applications. Wenzel has been a technical speaker for the Precision Metalforming Association for more than a decade, including holding one to two seminars a year to support and help train companies in the stamping industry. He also is a frequent contributing writer for MetalForming magazine, covering a variety of technical topics. His decades of experience with specifying and installing a wide range of turnkey production systems has provided a wealth of practical experience that Wenzel gladly shares with his audiences to help them become even more competitive stampers.
SEMINAR LOCATION
Precision Metalforming Association
6363 Oak Tree Blvd.
Independence, OH 44131
216-901-8800
HOTEL ACCOMMODATIONS
Holiday Inn Cleveland South Independence
6001 Rockside Rd.
Independence, OH 44131
Reserve your room online to receive a special rate of $104 (plus tax). Hotel accommodations include free self-parking. Hotel does not provide shuttle transportation.
REGISTRATION INFORMATION
In-Person/Virtual
$449 Members
$649 Nonmembers
Note: In-person registration includes breakfast and lunch.
Review PMA's COVID-19 safety information.
To register by phone, please call Marianne Sichi at 216-901-8800 ext. 150.
By registering for this event, you agree that your contact information could be shared with our valued event partners and sponsors.
Sponsored by