Die Setting Practices and Press Safety Seminar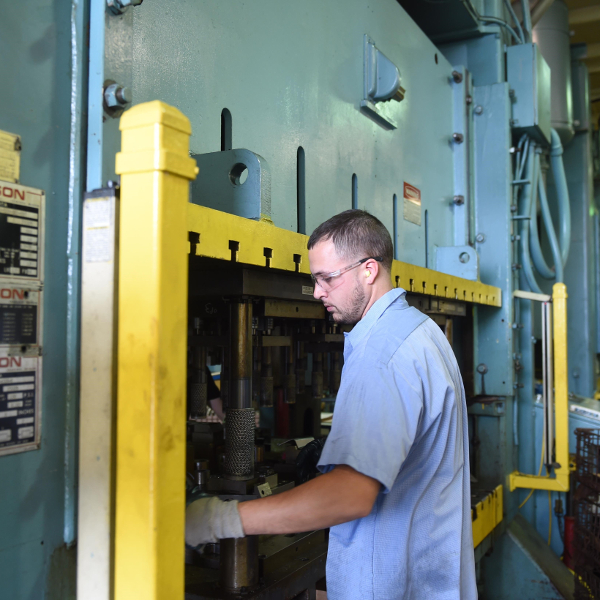 Wednesday, February 21, 2018 - Thursday, February 22, 2018
Nashville, TN
EVENT DETAILS
Die setting is a critically important activity that occurs multiple times throughout the day in the modern press shop. Proper die-setting practices and safety procedures are of prime concern because they can greatly impact machine uptime, machine maintenance and repair cost, overall equipment life, die-maintenance cost, product quality, process repeatability and, most importantly, operator safety.
This seminar addresses fundamental die-setting concepts and best practices, including:
Press technology, including servo technology
Understanding machine capacity/limitations
Feed-line technology, including straightener types, capabilities and limitations
Feeding progressive dies, including verification steps to assure proper alignment
Establishing and setting feed-release angles
Troubleshooting progressive-die problems
Quick-die-change technology
Safety practices
Fastener selection and torque practices
Counterbalance settings
Recognizing and managing off-center loads and reverse tonnage
PRESENTATION TOPICS
Day 1
Mechanical and Servo-Mechanical Press Technology
Todd Wenzel, TCR Integrated Stamping Systems
Tonnage and Energy
Concentrated Loads
Effects of Reverse Loading (Snap-through)
Effects of Unbalanced Loading
Counterbalance Systems – Importance and Adjustments
New capabilities of servo, a comparison of servo to mechanical drives and the impact on the stamping operations
Die Change and Setup of Presses: Hazards, Risk Reduction and Lockout Tagout – Or Not
Jim Barrett, LINK Systems
Risk Reduction Measures for Die Change and Setup
OSHA Compliance and Lockout Tagout
Hazards and Risk Reduction for Manual and Automatic Die Changes
Hazards and Risk Reduction for Coil Feed Lines
Hazards and Risk Reduction for Transfer Presses and Tandem Transfer Lines
Day 2
Point of Operation Safeguarding
Todd Wenzel, TCR Integrated Stamping Systems
Principles of Light Curtains when Applied to Stamping Presses
Basic Introduction to Control Reliability
Barrier Guards and Barrier Devices
Common Application Challenges and Solutions
Efficient Die Exchange
John Remington, Serapid, Inc
Single-Minute Exchange of Dies (SMED)
Overview of Standard QDC Solutions for Metal Stampers
Application Examples / Case Studies
Uncoiling and Straightening
Peter Ulintz, Precision Metalforming Association
Safe Coil Handling
Uncoiling-Reels and Cradles
Coil Shape Defects-Coil Set, Cross Bow, Edge Wave, Center Buckle
Traditional Straighteners, Precision Straighteners and Roller Levelers
Feed Progressive Dies
Peter Ulintz, Precision Metalforming Association
Die Features to Ease Feeding
Verifying Feed-Line Alignment
Setting and Verifying Progression
Setting the Pilot Release Properly
Feed Angles and Feed Rate
Key Steps for Proper Lubricant Setups
Jeff Jeffery, IRMCO Lubricants
Lubricant Types
Mixing Options
Cost of Improper Setup
Chlorinated Paraffins and Other Regulatory Updates
Lubricant Application Methods
Kyle Billin, UNIST
Why Proper Application is Critical
Options and Technologies Available
Best Practices and Procedures
Determining the Best Solution
Troubleshooting Part Quality Problems
Peter Ulintz, Precision Metalforming Association
Cutting- and Punching-Related Issues and Solutions
Forming-Related Issues and Solutions
Deep Drawing-Related Issues and Solutions
Presenters
Jim Barrett, CEO, Link Systems
Kyle Billin, Territory Manager, UNIST, Inc.
Jeff Jeffery, CEO, IRMCO
John Remington, QDX Sales, Serapid, Inc.
Peter J. Ulintz, Director of Training and Workforce Development, Precision Metalforming Association
Todd Wenzel, President, TCR – Integrated Stamping Systems

AGENDA
Wednesday, February 21, 2018

| | |
| --- | --- |
| 7:30 a.m. | Breakfast |
| 8:00 a.m. | Presentations |
| 12:00 p.m. | Lunch |
| 1:00 p.m. | Presentations |
| 4:30 p.m. | Adjourn |
| 5:00 – 6:00 p.m. | Reception with presenters |
Thursday, February 22, 2018

| | |
| --- | --- |
| 7:30 a.m. | Breakfast |
| 8:00 a.m. | Presentations |
| 12:00 p.m. | Lunch |
| 1:00 p.m. | Presentations |
| 4:30 p.m. | Adjourn |
SEMINAR LOCATION & HOTEL ACCOMMODATIONS
Radisson Nashville Airport
1112 Airport Center Dr.
Nashville, TN 37214
615-889-9090
Please call the hotel direct at 615-889-9090 to make a room reservation. Reference Precision Metalforming Association to receive the room block rate of $129 (plus tax). The PMA rate is available through January 21, 2018. Reservations made after this date are subject to availability at the hotel's prevailing rates. Hotel offers complimentary Internet in guest rooms, self-parking and shuttle to and from Nashville International Airport.
REGISTRATION INFORMATION
Through January 19, 2018
$499 PMA members
$699 Nonmembers
After January 19, 2018
$599 PMA members
$799 Nonmembers
For more information, please contact Marianne Sichi.