Deep Draw Technology Seminar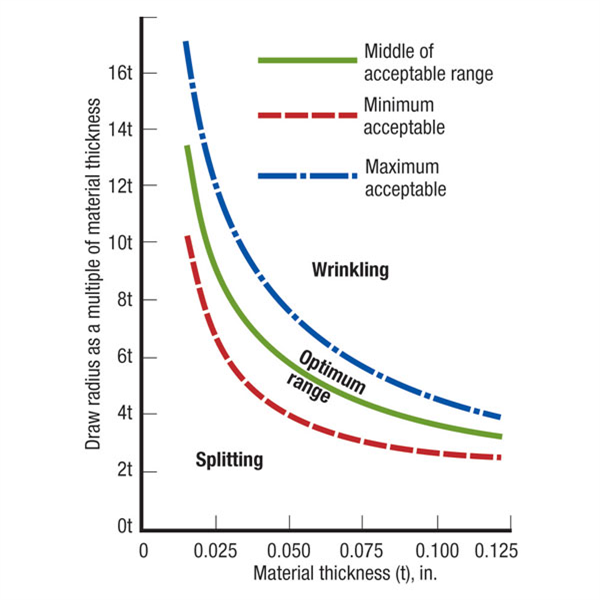 Thursday, September 19, 2019 - Friday, September 20, 2019
Nashville, TN
GET THE TOOLS YOU NEED TO IMPROVE PERFORMANCE
Discover how sheet metal strength and thickness, forming speeds, surface coatings, lubricant types, die design, tool steel selection and heat treatment affect part formability, process performance and die life in deep-drawing applications.
Seminar topics include:
Tooling design principles for deep drawing
Deep drawing irregular-shaped parts
Draw die addendum and blankholder development
Selecting a suitable tool steel based on performance requirements or failure modes
Troubleshooting and diagnosing tooling problems
The science behind friction at the tool surface
Understanding basic lubricant formulation
Material properties and their influence on forming and deep-drawing processes
How properties of higher-strength steels affect the deep-drawing process
How computerized die tryout makes die build more efficient and effective
Different force systems and the relevant applications for each type
How servo-controlled force systems can improve formability in the deep-draw process
Selecting die surface coatings
Who should attend?
This seminar is designed for those designing, building and operating single-station, progressive and transfer drawing dies operating in hydraulic, mechanical and servo-mechanical presses.
Die Designers
Die Maintenance Personnel
Manufacturing Engineers
Plant and Operations Managers
Process Engineers
Product Designers
Program Managers
Quality Personnel
Tool & Die Makers
Tooling Engineers
Tooling Supervisors
Presenters
Solomon Berman, President, IBC Coatings Technologies Inc.
Jeff Jeffery, President, IRMCO
Mike Sanchez, Sr. Applications Engineer, HYSON Metal Forming Solutions
Ed Tarney, Principal Metallurgist, ET Metallurgical LLC
Pete Ulintz, Technical Director, Precision Metalforming Association

AGENDA
September 19, 2019
7:30 a.m. Breakfast
8:00 a.m. Presentations
12:00 p.m. Lunch
1:00 p.m. Presentations
4:30 p.m. Adjourn
Note: In addition, the PMA Tennessee District will be holding its 4th Annual Mfg/Suppliers Night on September 19. Stop in the ballroom down the hall after day one of the seminar to meet with suppliers from all over the region. Free admission.
September 20, 2019
7:30 a.m. Breakfast
8:00 a.m. Presentation
11:45 a.m. Lunch
12:30 p.m. Presentations
3:00 p.m. Adjourn
Note: Breakfast and lunch are included with your registration.
SEMINAR LOCATION AND HOTEL ACCOMMODATIONS
Nashville Airport Marriott
600 Marriott Drive
Nashville, TN 37214
Reserve your room online or call the Nashville Airport Marriott Reservations Center at 800-228-9290 or 615-889-9300 and reference the PMA Deep Draw Seminar to receive the group rate of $169 per night plus applicable taxes. The cut-off date to receive the discounted group rate is 5:00 p.m., August 28, 2019.
The hotel is within minutes of the Nashville Airport (BNA) and offers a free hotel shuttle to and from the airport and complimentary parking during the program dates. Also it is conveniently located within five miles from the sights and sounds of downtown Nashville.
REGISTRATION INFORMATION
Register early by August 28 and save $100!
$499 PMA Member
$699 Nonmember
After August 28
$599 PMA Member
$799 Nonmember
To register by phone please call Marianne Sichi at 216-901-8800 ext. 150
Please let us know if you require any special arrangements or accommodations:
PMA reserves the right to amend the program should circumstances warrant such action. In the event of course cancellation, PMA will notify you within seven days of the program date, and will refund registration fees. Liability for course cancellation is specifically limited to the amount of registration fees and excludes any incidental or consequential damages. Individual cancellations must be made in writing. Registration fees are nonrefundable for cancellations received less than seven days prior to the program. Substitutions are welcome at any time.