Estimating Metal Stamping Dies Virtual Seminar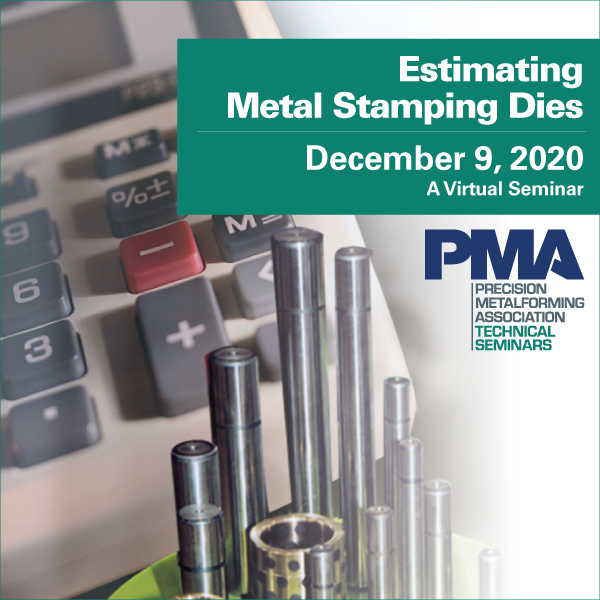 Wednesday, December 9, 2020
Virtual Seminar | 12:00 - 3:30 p.m. ET
Experience this powerful opportunity to explore the planning and estimating of metal stamping dies to achieve more consistent die estimates!
Virtual Seminar Highlights
Introduction to Die Cost Estimating
Goals of an efficient die cost-estimating system
Controlling die price variation and reducing mistakes
Utilizing resources for efficient die cost estimating
Preparing and interpreting the die request for quote
Die Types and Construction Specifications
Basic die construction for estimating
Selecting the die type (progressive, transfer and line-die applications)
Understanding die design and construction specifications
Press specifications for estimating
Planning & Processing
Analyzing the production part
Formability, flattening and nesting techniques for 2D and 3D data
Die process-planning techniques
Process order of operations
Determining the number and type of stations
Estimating the Die Cost
Popular die cost-estimating methods
Formulas for estimating design, die shoe, build-up, punch and die, cams, springs, stock control, sensors, contour machining, tryout, and approval cost
Establishing labor and overhead rates, and profit goals
Calibrating the die cost-estimating system
Key metrics in die quoting
Die market and selling considerations
Presenter
Jeff Bennett, President, Tool Planners Inc.
Jeff is the developer of DieEstimator.com and its innovative products and services for die cost estimating. His areas of expertise include die shop management, cost estimating, and tool and automation design. Tool Planners Inc. serves the metal stamping industry with software, training, and consulting services for die cost estimating. Jeff is a regular speaker at PMA seminars and has served on PMA's Technical Task Force.
Agenda
Wednesday, December 9, 2020
12:00 - 3:30 p.m. ET
Registration
Members $99
Nonmembers $199
NOTE: Attendees will receive an email from "Webinar Admin" with the login information.
Registrants will receive a link to the presentation recording after the webinar.
To register over the phone, please contact Marianne Sichi at 216-901-8800 ext. 150.