Member Profile
Biosolutions LLC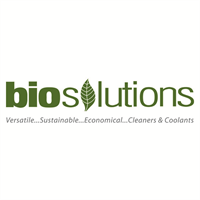 1800 Industrial Park Dr Ste F
Grand Haven, MI 49417-9496
United States
Map Location
Phone: (616) 846-1210
Fax: (616) 846-1254
Website:
www.biosolutionsllc.com
Facility Size: 0 sq.ft.
Employees: 1-19
BRONZE MEMBER
PMA Member Since: 2014


Biosolutions is an innovative, West Michigan-based manufacturer of environmentally friendly cleaners and metalworking fluids. We are all about bringing safer chemistry to solving common manufacturing challenges. Biosolutions has designed world class Roll Forming, Stamping, and CNC Lubricants; Cleaners recognized by the EPA's Safer Choice Program; and Rust Inhibitors that allow parts to be safely shipped all over the globe.
Biosolutions is a preferred vendor because our products are designed with employee health & safety, and the planet in mind.
Metal Working Fluids:
Bio 9001 - Roll Forming Steel/Aluminum
Bio ME-0230 - Stamping Light Duty
Bio ME-0430 - Stamping Heavy Duty
Emerald CNC - Milling/Machining Cast Iron/Tool Steel/Mild Steel/Aluminum
Cleaners:
Clean & Green Super Concentrate
- Floor Cleaner, Scrubbing Machine, Mop Applications
Clean & Green super D
- Degreaser
Clean & Green Glass Cleaner
- 2 ounce pouch makes 5 gallon of Amazing Glass Cleaner.
---