Maximizing the Performance of High-Speed Stamping Processes Webinar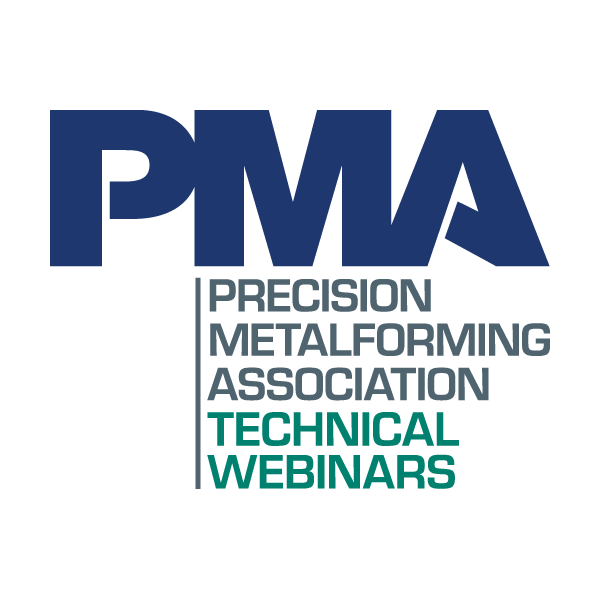 Thursday, July 14, 2022
Webinar | 12:00 - 3:30 p.m. ET
Learn the fundamentals of high-speed press applications, the construction of a high-speed press and its relationship to stamping die performance. Important die-specific topics, such as stripper-plate design and piloting methods, also are presented.
AGENDA
12:00 p.m. Fundamentals of High-Speed Stamping Presses
René Zwahlen, Operations Manager (Huntsville) at Bruderer Machinery Inc., President, Sangiacomo Presses Americas
High-speed stamping presses can operate at 2000 strokes/min. and more. At these production speeds, dynamic forces and thermal influences dramatically affect the stamping process. This presentation examines mechanisms to counteract these influences and explains why these types of presses are more precise than conventional stamping presses.
1:45 p.m. Maximizing the Performance of High-Speed Stamping Processes
Peter Ulintz, Technical Director, Precision Metalforming Association
Achieving maximum performance from high-speed stamping operations requires a higher level of attention to detail than with traditional stamping processes. This presentation will discuss stripper-plate design, forming methods, piloting, and other recommendations for achieving smooth feeding of thin materials at high speeds.
3:30 p.m. Adjourn
PRESENTERS
René Zwahlen, Operations Manager (Huntsville) at Bruderer Machinery Inc., President, Sangiacomo Presses Americas
As president of Sangiacomo Presses Americas, LLC and operations manager at Bruderer Machinery, Rene is skilled in troubleshooting, electrical engineering, pneumatics, maintenance and repair, and ancillary metalforming solutions. He has an EMBA, business administration and management, and a BSEE, electrical and electronics engineering.
Peter Ulintz, Technical Director Precision Metalforming Association
Peter Ulintz worked in the metal stamping and tool and die industries for 37 years prior to joining PMA in 2015 as technical director. His background includes tool and die making, die processing and design, engineering management, and product development. Peter speaks regularly at PMA technical seminars and conferences. He is past president of the North American Deep Drawing Research Group, and authors the Tooling by Design column in MetalForming magazine.
REGISTRATION INFORMATION
PMA Members: $99
Nonmembers: $199
NOTE: Attendees will receive an email from "Webinar Admin" with the login information.
Registrants will receive a link to the presentation recording after the webinar.
To register over the phone, please contact Marianne Sichi at 216-901-8800 ext. 150.
Sponsored by