PMA Tennessee First-Annual "Taste of PMA" Speaker Series and Plant Tour, hosted by STAMTEC Presses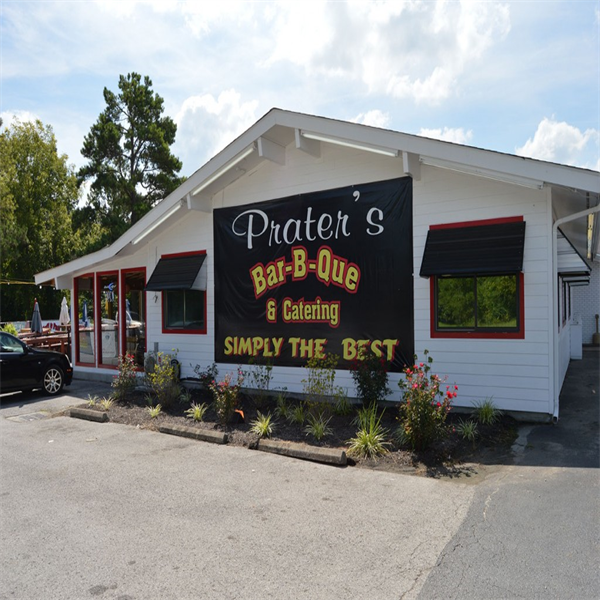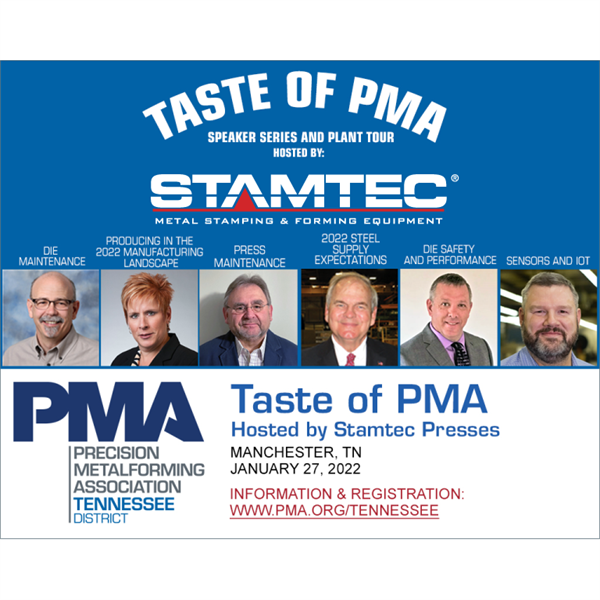 Thursday, January 27, 2022
Manchester, TN
Join the PMA Tennessee District at Stamtec for our first-ever "Taste of PMA" metalforming industry speaker series on January 27.
We have brought together six powerful PMA presenters under the roof of Stamtec's 72,000-sq.-ft. facility, located in Manchester, TN. This is an opportunity to meet and hear from some of PMA's highest-rated speakers and volunteer leaders, close to home. They will get your new year started on the right foot by blending presentations on core stamping topics, PMA benefits, and 2022 market and supply trends.
Between presentations, we will have a BBQ lunch, catered by Praters BBQ, along with a plant tour of our host, Stamtec. This is a can't-miss event for all metalforming professionals!
ABOUT OUR HOST
Stamtec, through its parent company, is one of the largest press builders in the world, with more than 50,000 presses sold; 1500 employees; 6,500,000 square feet of manufacturing floor space; and facilities in the United States, Taiwan, China and Mexico, producing more than 3,000 presses per year.
Stamtec is one of the most prominent and proven press manufacturers in the world. The company's presses are acknowledged worldwide throughout the metal stamping industry for quality, reliability and proven performance.
AGENDA
7:00 - 8:00 a.m. CT Registration/Continental Breakfast
8:00 - 10:00 a.m. Press Maintenance and Repair- Jeff Fredline, MECO Industries
10:00 - 12:00 p.m. Improving Your Die Maintenance Programs - Pete Ulintz, Precision Metalforming Association
12:00 - 1:00 p.m. BBQ lunch and Stamtec Plant Tour
1:00 - 2:00 p.m. How Today's Manufacturing Landscape is Impacting Your Business - Laurie Harbour, Harbour Results, Inc.
2:00 - 3:00 p.m. Steel Market Update/Factors that Affect Supply and Demand - Bill Hickey, Lapham-Hickey Steel
3:00 - 4:00 p.m. Data Collection Sensors & IoT - James Barrett, Link Systems
4:00 - 5:00 p.m. Maximize your Lubricants - Bob Anderson, Tower Metalworking Fluids
LOCATION
Stamtec Mechanical Presses
4160 Hillsboro Hwy.
Manchester TN 37355
REGISTRATION INFORMATION
$45 PMA member
$55 Nonmember
For more information, please contact Perry Hytken. To register over the phone, please contact Randy Kish at 216-973-1398.
The plant tour host reserves the right to review the list of attendees and deny access to anyone due to a competitive situation.
Reivew PMA's COVID-19 saftey information.